It's Friday Fragments Day!
It's Friday Fragments Day!
It's Friday Fragments Day!
It's Friday Fragments Day!

Welcome to
Friday Fragments
! This is the place where we're able to put little snippets of fun or interesting things together without having to stretch that idea into an entire blog post.
Mrs. 4444
is our lovely host and I am so grateful for her continued hosting of this fun carnival. For more
Friday Fragment
finds, please head on over to
Half-Past Kissin' Time.
Thanks!
*•-:¦:-•:*''''*:•-:¦:-•
- June 23rd, 2011 -
Happy Tin/Aluminum Anniversary to me!
Tom and I were married 10 years ago today.
Our first date was 16½ years ago today.
He got his liver transplant 5½ years ago today.
The 23rd is our date.
My husband said that he was going to get me a roll of aluminum foil tomorrow when he goes grocery shopping. I asked him if he would make me an aluminum foil hat.
*•-:¦:-•:*''''*:•-:¦:-•
I was making the guest room bed and tossed this king sized comforter out the door to get it out of my way for a few minutes. When I came back for it, this is what I found. Mocha is so funny, but she's not the only family pet that likes to snuggle up in the laundry, I'm sure!
*•-:¦:-•:*''''*:•-:¦:-•
I am going on my road trip in just a few weeks. I'm staying with or seeing blogging friends and people from our transplant support group who have gone home on my way to New Hampshire and on my way back home to Florida. I'm looking for one more person to stay with or visit between North Carolina and Massachusetts along the I-81 and I-95 route. Give me a shout out or ideas on areas to visit and photograph.
*•-:¦:-•:*''''*:•-:¦:-•
This is what I heard at lunch today.
"Would you like a piece of cake?"
"No thanks, we have turkeys at home."
...from a few tables away the word "cookies" sure sounded a lot like "turkeys".
*•-:¦:-•:*''''*:•-:¦:-•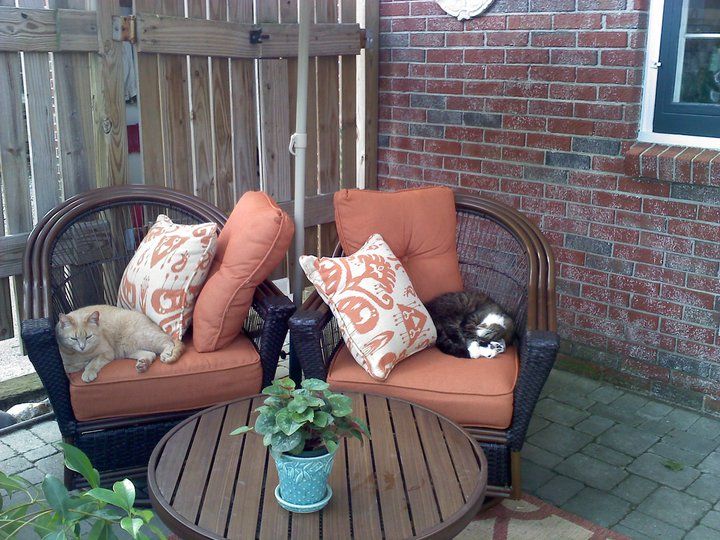 My mother just purchased some new patio furniture and her kitties have found the new accommodations to be perfect! Love the patio Momma and my McCoy planter looks lovely on the table.
*•-:¦:-•:*''''*:•-:¦:-•
I bought a new lens for my camera the other day. It's a telephoto lens Nikor 55 - 300. I have been wanting a new lens for quite awhile now, but with the upcoming trip I could finally justify it. I have only taken a few photos with it and so far I love it. I'm not sure how in the world I lived without it!
*•-:¦:-•:*''''*:•-:¦:-•
I keep mentally packing my car - editing what I'm going to take - rearranging where I'm putting each item. Right now my main goal is to make sure that I can put my drivers seat in a reclining position so I can take cat naps without having to get out and rearrange the whole car.
Road naps are a very important part of any road trip! I always end up taking one or two each day.
*•-:¦:-•:*''''*:•-:¦:-•
Have a wonderful day and if you are looking for more
fragmented thoughts
, head on over to
Mrs. 4444
's place to visit more!!
Kristin