I had the urge to taste test a package of slice and bake cookies.
There's a story behind that urge. I've always got a story.
You see it all started because we're having a potluck next week and the theme is Trailer Park Chic.
I wanted one of the things I took to be something that was a quick and easy. Something that would be easy to store and make in an airstream trailer. I thought these cookies might be a fun idea.
I quickly opened the oven door because I couldn't get a good enough shot through the glass.
Even though the package expressly said "Do Not eat raw cookie dough," I did anyway. So the batch of cookies was short a few.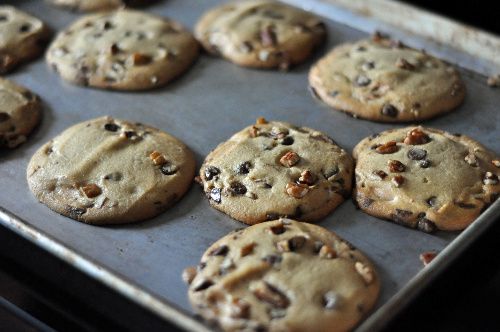 These had to be the easiest cookies I've ever made in my life. The log rolls of cookies that need to be sliced and baked never come out right for me. I stopped trying years and years ago. Don't even get me started on the holiday ones that have a cute design on the inside! Sheesh, mine never ever came out looking like anything but a squashed
fill in the blank
.
These were all in one flat and all you had to do was to break them up into squares on the scored lines, bake and eat.
I honestly can't remember what these were called. Maybe Turtle cookies? Chocolate, pecans and bits of caramel. Pretty darn good what ever they were.
I do believe if I were camping in an Airstream and some friends in the RV park or campground stopped by, it would be very easy to pop these into the oven and viola! Cookies in few minutes.
That's what I call Trailer Park Chic.
What would you make for a Trailer Park Chic potluck?
Have a great day!
Kristin