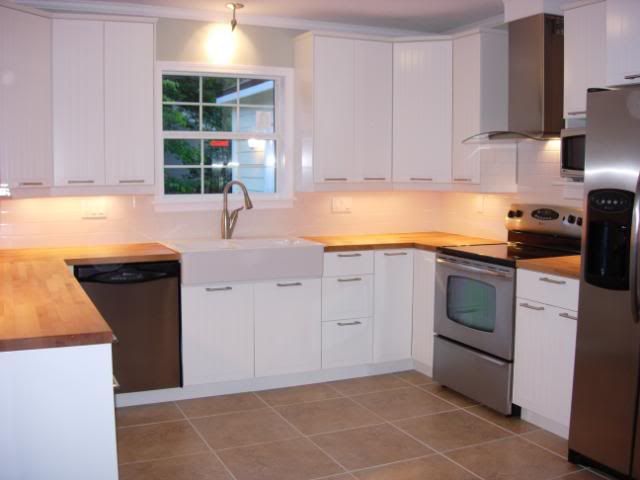 I know I've posted pictures of the kitchen before, but in this picture, the kitchen is done. Tile washed, sink cleaned, stainless steel polished, floors mopped...done.
Today I gave the almost new owners the keys.
I say almost new owners because we haven't closed yet on the house. We worked in the rain with a building inspector standing there (holding an umbrella) watching us finish up the landing for the back patio doors (that had to be fixed before we got a PASS on the final inspection.)
The new owners had sold their house and had to be moved out by today. I think the closing is on Tuesday. My husband is working with a few of the new owners friends and family, building the decks on the back of the house. The deck and arbor on the front of the house will be finished this coming week... but the final inspection is done! done! done!
I am completely finished inside the house and the exterior is just a breath away from being finished. August 11th would make 4 months since the day we started - I do believe we will be finished before that magic date.
I'm downloading all of the pictures from the past week. I'll be posting bits and pieces in the next few days.
But for now -- enjoy that kitchen. I just love it.
Have a great weekend!
Kristin