I'm going to just continue to update this post for the next couple of days - so I'll keep it at the top. Updates will be at the bottom of the post.


Thanks,
Kristin
This is the info on Tropical Storm Fay
as of 1215am Eastern time on Tuesday morning.
Fay is:
358 miles from Jacksonville, FL
Moving North at 9 MPH
Winds at 60 MPH
Pressure at 985 mb and dropping
I'm waiting to see how Jacksonville handles a storm. I have been through several hurricanes when we lived in Daytona Beach. I even had to go to the relief center to get a bag of ice and some of those Delicious MRE's. (Meals Ready to Eat) I was very thankful that I had a gas grill with a burner on the side. Although Hurricane Francis was a wind maker for so many days, that I couldn't use the grill very much - but enough to heat up some water to wash up.
The weather guys around here keep saying that the storm is coming right through Jax. They are almost excited about it. One weather guy said that they just recently redid the model and the storm will now do a big circle around Jacksonville. It will go out to sea and then come back and get us again. Oh dear - the news folks are so ever hopeful for something "exciting" to say.
I do hope that everyone in th path of the storm stays safe and reacts smart.
Kristin
Update 10:30pm Tuesday.
The storm is just sitting in the middle of Florida. This is good and bad. The good is that it isn't getting stronger, but the bad is that it is just beating the crap out of the middle of Florida. Hurricane Francis stayed over the top of Daytona Beach (and other locations lol) for four days. It was one of the longest weeks ever. The howling of the wind through the house, the rain pouring non stop, no power, no nothing - it was exhausting. I really feel for those folks in lower Florida.
Jacksonville is going to get some of it - I just hope it's not too much rain - I have two condos on the ground floor of a complex and they will flood with 3" of water. I'm already wondering where to get sandbags for those two places.
Kristin
Update Wednesday 20 August, 2008
1:00pm
Tropical Storm Fay crossed through Florida and the eye of the storm has finally made it to the Atlantic Ocean right near Cape Canaveral. It's still headed North and East, but hopefully it won't strengthen.
Fay has dumped 10.5 inches of rain in Melbourne, FL, 11 inches in Ft. Pierce, FL, and 8.5 at Vero Beach. The Miami area only received 4 inches of rain while West Palm Beach saw 7 inches.
Jacksonville is under a Tropical Storm warning, a Flood Warning, a Hurricane Watch, a High Winds Advisory and a Tornado Watch. Not bad!
Right now we just have pouring rain. One of the rain bands is coming through.
This is what's happening now.
Go to the Weather Channel to see more detailed maps.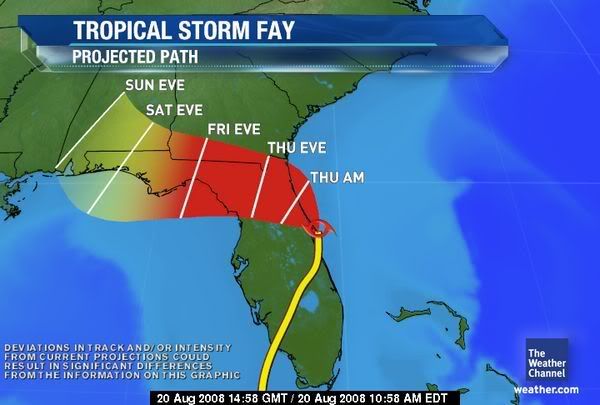 UPDATE 21 AUGUST 11:35 AM
Fay has hardly moved - we are still getting rain and wind. We aren't getting the flooding yet, but it looks like the rain will continue for the next several days.

I'm going to assume that we are going to be just fine, so I'm going to retire this post for a day or so.
OK, well, I decided to post a few more maps from Weather.com

Update - 12:03AM 22 August
Fay has made it onto land again - it is now moving at the excruciatingly slow speed of 2 MPH - TWO miles per hour? I've never heard of storm moving that slow.
We've lost power several times today. Twice for more than a few hours - about ten times just flickering. Enough to shut down my computer.
Rain rain rain wind rain rain rain.
I have to say - Hurricane Francis stayed around for several days and the wind was maddening. I though I was going to lose my mind with all of the whistling and howling that was coming into the house. I could hear the garage doors banging non stop. This storm is much quieter, just a lot of rain.
I'm going to bed. We'll see if she's moved more than 10 miles by the time I wake up!
Kristin