One of the quickest and easiest ways to transform a room is with paint. If I've heard that once I've heard it a million times. The actual painting process is fairly quick - it's the prep work that takes time and is so very important. Cleaning out the room also takes time.
Prepping the walls, taping off the windows, patching holes and all the assorted other prep work is the most tedious part, but it is soooo important.
The other day I went to Home Depot and took pictures of all (hopefully all!) of the essential items needed to successfully prep and paint a room. I have gone through hundreds of dollars buying things that don't work. I've literally bought into the hype of some products only to be seriously disappointed. I've also bought into hype to be pleasantly surprised! I will guide you.
The first thing you want to do is pick up items to do prep work.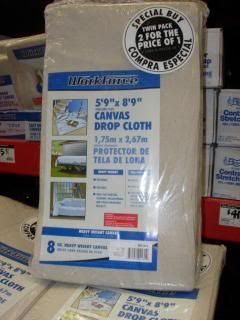 I like to use just one drop cloth, small is better so I can move it around easily. I like the fabric ones because I can wash it and keep it for future use and they aren't slippery to walk on. They also straighten out easily when moving them around the room.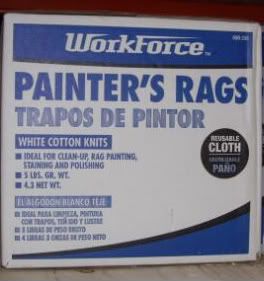 Painting rags. Love them. I like to buy a box of them so I don't run out and so I can always find one to use. I also wash these as well and then store them in a giant ziploc bag for future projects.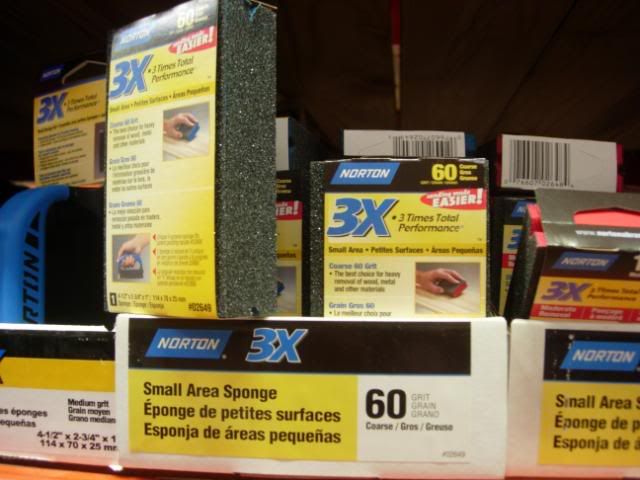 A block sander is awesome. It can sand wet or dry - It is easy to hold and can sand out the spackle off the wall in a jif!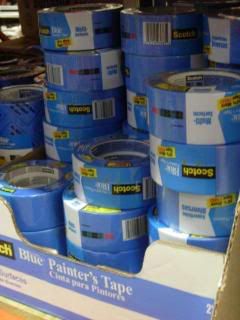 Blue Tape. I buy it by the case LOL It is great for taping off doors and windows, floors and ceilings. When we had our wooden floors refinished we got rolls of paper to cover the floor and taped the sheets together with blue tape & also taped the whole thing to the floor with blue tape. I cover light switches with blue tape, too. Take off the switch plates & outlet covers and put a 2" - 3" piece of tape over the outlet or the switch. This saves you a lot of time cutting in around the switches and outlets. You can just paint right over the top and peel off the tape.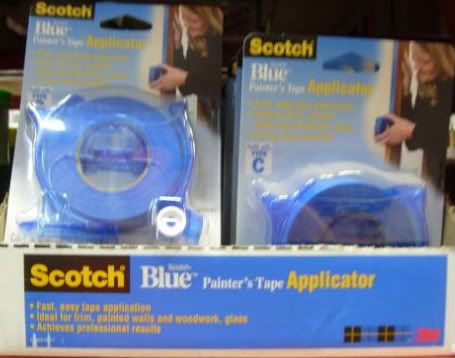 This is one of those products that actually works. You can tape off basebaords and door trim in a matter of seconds with this great product.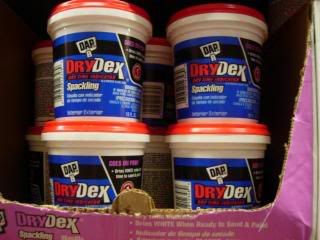 This Dri-dex is the best ever. It goes on purple and dries white. You always know when it's dry because it stays purple the entire time it's wet. Great product. It also comes in a tube. Both are nice, quality products.
Get a good quality spackling knife/putty knife. Get one that's flexible. I personally like the straight edged knife, but others like the chisel. I'd go for straight if you are a beginner.
Caulk. Oh, I love caulk. I had never used caulk before (except for around the tub in my bathroom) but when we renovated a house recently, caulk was my best friend. I caulked around windows, the joints in baseboards, crown moulding and any place else that needed to have a flexible seal. The picture is caulk that goes into a caulk gun, but it comes in tubes, too. Get some. You won't be sorry. Make sure you get paintable caulk.
Finally we are coming to painting supplies!
This is what you will need to paint.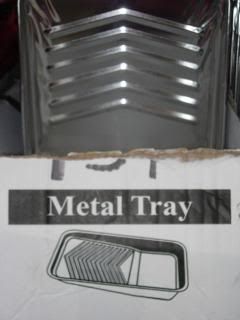 A metal paint tray. You don't need to spend a lot of money on this product. Get the cheap one.
This is the BEST product. These tray liners just slip right into that metal tray. If you need to change colors, just pop the tray and the paint into a tall kitchen trash bad (gently of course, so as not to spill the paint) and get out another tray liner and use a different color.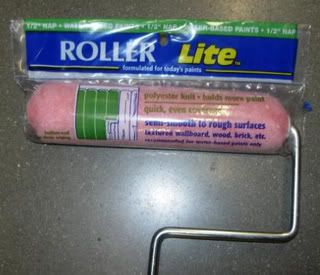 This is the paint roller cage of choice for me. It has a small thin long handle. It makes it easy for a person of 5'2" to reach a 9' ceiling without having to use a ladder or an extension pole. It also doesn't splatter like a regular roller does, when you roll it on the wall. (I rarely use a drop cloth when I paint with these)
This roller cage is so much lighter than the regular one. The roller covers, below, hold a little less paint, but my body hurts a lot less when I use these products. I can also paint all day, rather than just a few hours at a time. You can get this little roller behind so many things, too - toilets & towel bars for example. I love love love this product.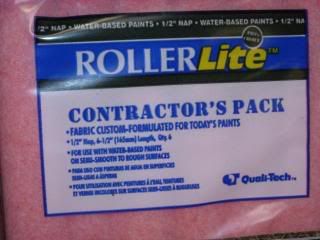 This purply/pink roller is OK. Good for small projects. One of these actually comes with the roller, but I usually change it out for the beige one.
This beige one -- Ooooh, it is thick and soaks up a lot of paint. It is good for textured walls and smooth walls. My husband teased about using the tiny roller for painting and then when I wasn't looking, he was using my roller!
This is a foam roller. I hate them. They don't seem to soak up much paint at all. The paint that does go on the wall is such a thin coat, that it becomes tacky far too quick and you can't roll over it a few seconds later. I don't recommend this type of roller.
I love the PURDY brushes. Get a quality brush. Pay about $10 - $20 for a 2- 2.5 inch brush. I like the angled brush - makes it easier to paint trim. When you are finished with the brush, wash it out. It will last you for years and years and years. If you need to just stop painting for a little while place the brush into a baggie (below) and roll it up, keeping the air out. It will last that way for a whole day (but try to not make it wait that long before you wash it out)
This is an edger. I like this brand - but I like the one that has the attachment for a extension pole - only because it has a tab at the top that keeps the paint pad from scooting up too far. These work pretty well. Just don't go too fast or you may lose control LOL
This is a really great extension pole. It has a little push button and it expands and contracts -- really awesome. I loved this one - and it is easier to store.
There is always a time when you need to have a trim paint tray. This is my favorite tray. It is easy to hold and it is deep enough that you can put a lot of paint in it. It also fits in the baggies, so it can store for awhile without having to pour it back into the can.
These are my paint baggies. They are just baggies - no zippers. They are thin enough to use easily and they are thick enough to keep the air out. They fit brushes and roller covers. They even fit the little trim paint tray.
This is how I use the baggies on the roller covers. I can also take the cover off the cage and save the roller to come back to in a few days.
Last but not least....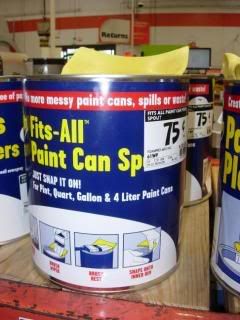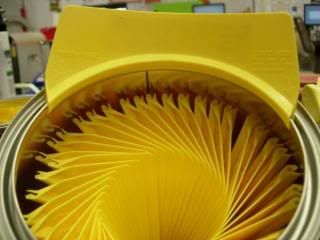 I like to keep my paint cans clean so that the lids fit on nicely and don't get clogged up with paint. These little beauties fit right on the side of the can and makes it easy to pour. They are cheap, too. Pick up a couple. You can put one of those baggies over the top of the can (when you have the pouring lip on it) to save it from drying out, until you put the lid back on. Put the lid in a baggie, too if you want.
You will also need a paint can opener. I don't have a picture of one, but if you have a real paint can opener you will be much happier when trying to open paint cans.
Goodness, that took me all day to get together LOL Had I known, I would have started this post a few days ago. I hope that if you decide to take on a painting project that you come back to this list. If I have forgotten something, I'll add it in.
Thanks for coming to visit me this week!!
Rocks in my Dryer
is hosting Works For Me Wednesday after being on hiatus for a few weeks this summer. Please click on her blog and find all sorts of wonderful WFMW posts from hundreds of other bloggers.
Have a great day!
Kristin