When I arrived in Indianapolis I was given my cousin Keith's room. I tossed my bags in the room and my Uncle brought up the incredibly heavy suitcase! but I hardly even looked around. After chatting, laughing and eating and staying up too late, I went to bed and fell asleep within moments.
When I woke up, I looked up and this greeted me!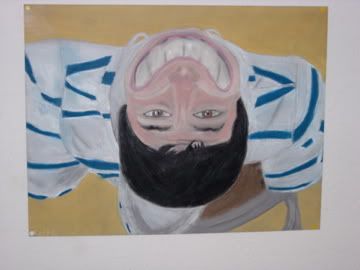 This is a self portrait, I do believe, of my cousin Keith and he had placed it directly above his bed on the ceiling. I have to say, it is a little bit scary to see this upon opening ones eyes. I am almost positive I let out a little sound. It wasn't a scream, but it was a gasp of air.
Then when I turned to my side, I saw this guy!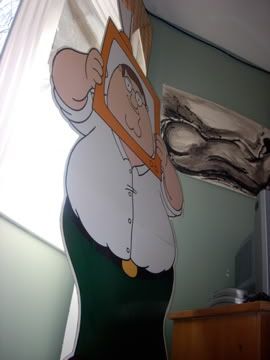 I took these photos as I was laying in the bed. There wasn't a bed frame or a box spring so this really was my point of view of The Family Guy. I wasn't prepared for him, but after the self portrait on the ceiling, this wasn't as shocking.
I took random photos of friends and family during our three day event, so lets see what we can find, shall we?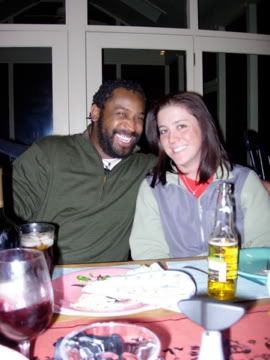 This is Ray and Liza. Ray is a friend of the family and Liza is the girlfriend of my cousin, Colin.
This is my Uncle Matthew, in his son's chef coat and his son, the Chef, cousin Alan standing next to him while they show off the turkeys. Those were the best turkeys, too. Free range and full of wonderful flavor.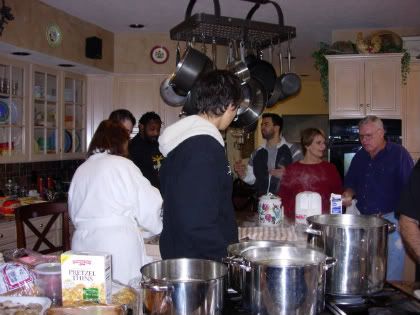 This is the group gathering for lunch on Friday.
R-L
Uncle Dick, my Mother, Colin, Ray, Matthew, Marg and Keith.
I do believe that is the only picture I got of Keith and Colin. Sorry boys!
This is cousin Garrett and friend, Chris.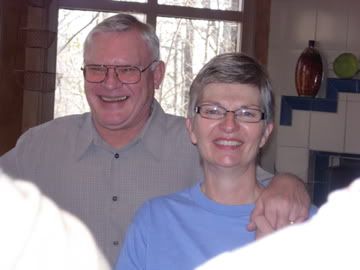 This is my Aunt Gail and Uncle Dick. They were standing back behind a bunch of people when I took this shot. It came out real nice!
My Uncle Matthew is pictured again. I just loved the outstretched arm in this photo. My Aunt Marg wouldn't sit still long enough for me to get a photo of her LOL But this is her home and Matthew's home where all of these photos were taken.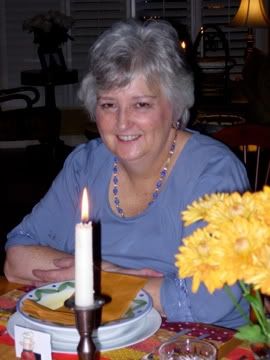 This is another friend of the family. She is Chris' mother. She made some incredible looking pies. I think they were both Apple Pies, but one had raspberries included in it. Man they looked good.
These two kids, were real troopers. They weren't sure if they were going to like all of this fancy food my cousin Alan was fixing for all of us, but they really enjoyed the meal. I'd tell you their names, but I never got permission from their parents...so we'll just leave it at that.
This is the rest period after the Thanksgiving feast.
This is my sister, Hillary. This was taken just before we left on Friday to head for Michigan. My Aunt Gail was trying to take this photo but couldn't get her camera to take it, so I did. I'm glad I did - I love it!
Hope you enjoyed the picture show.
Kristin