The other day I posted a picture of my
desk
all because of a post that the
Organizing Queen did on decluttering our desks
. I said that I was going to get it cleaned up this weekend and as the end of Sunday was counting down, I got my butt off the couch and cleaned it up.
Here is the new and improved computer desk area.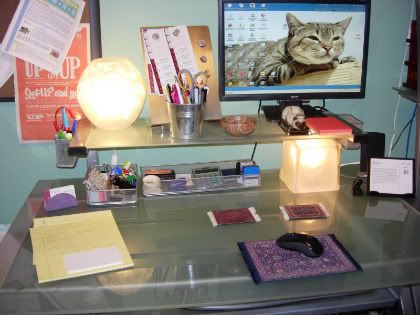 I love IKEA desk lamps, so I do have two on my desk. They are just perfect if I don't want the glaring overhead light on. My mouse pad and coasters are actually
Mouse Rugs
. I love them. I've had them for years and can hardly function without them! My husband even loves the mouse rug mousepad. Lets see what else is in the photo -- The little kitty in front of the monitor (with the cat screen saver lol) is actually a tape dispenser that my sister Alison gave me one year as a gift. Next to that is the wooden bowl my mother gave Tom one year for Christmas. I put paper clips in there. I am always using paperclips. Also on that shelf are my Super Sticky Post-It notes. The large silver board is a magnetic project board. I really like it so I can see my projects or notes quickly. Since I cleaned everything off, the only thing I had to put up there were my VistaPrint address labels. The wire baskets are full of push pins & binder clips in one and the other holds checkbooks, stampers that say Thank You and Paid, a calculator, a roll of address labels that actually have my home phone number, my cell phone number and my husbands cell number on it - as well as our names. I stick them on cards and letters and on items that I lend. I have my page-a-day "The Secret" calendar and a legal pad with my current notes.
So that's my newly cleared off desk. Whew!
This was for the Organizing Queen project. You should really go over and see what she's up to. The OQ asked us to Honor the Memory and not the item the other day. I told a quicky version of the day I gave away my wedding dress, in her comment section. She liked my story so much that she posted a note on her website to come see my post. How very cool.
Here is her post
- and here is my
wedding dress story
.
I'm so happy that I cleaned off the desk tonight. I was tired and wasn't in the mood, but sometimes it doesn't matter what the mood. The project was a success and I don't have to think about doing it tomorrow! It did take over an hour to cull through everything. I had a lot more things to file than I had anticipated. I also had to check my facebook page and read a blog or two. OK, I need to get this posted before my Sunday is over.
Have a fabulous week!