The person who received my Secret Santa gift blogged about it yesterday. Her name is
Colleen
and she really enjoyed the gifts - go on over to her place and take a look at the wonderful things she had to say. Here's a picture she took of the gifts.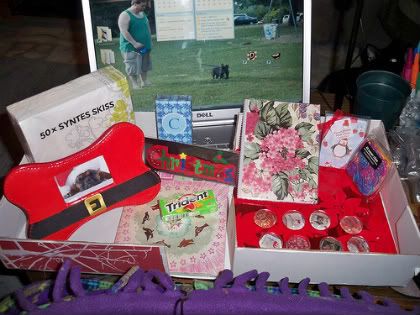 In this photo we have
Napkins from IKEA
Little travel Kleenex with Colleens initial on them.
A photo frame in the shape of a bone, with red vinyl with a black belt.
Trident watermelon gum (YUM!)
underneath the gum is a package of hand stamped sticky notes in various sizes.
8 magnets that I made with a Christmas theme
her favorite color is purple, so I included purple paperclips
guest handsoap in vanilla scent
and a mini photo album.
She loved it.
I love that she loved it.
Thanks to Georgie over at
Decisionally Challenged
for putting this all together.
Kristin