I absolutely love buying things online. I love shopping from my couch, clicking on the different views of the product and placing that order. I can spend hours looking for cool things for myself and others. I don't actually buy a lot of things, but I do have a whole section in my BookMarks section of my computer that is titled "Shopping." It is in that spot that I keep the links to the great shops I have found in my travels. I just found this one today and wonder what has taken me so long!
I've got something to share with you all -- I just found this site -
Poppytalk Handmade
.
Poppytalk Handmade is a monthly online street market curated by Poppytalk to showcase, buy and sell handmade goods of emerging design talent from around the world.
Poppytalk has mined the deep caverns of the internet, collecting the finest gems of the handmade community and putting them all in one minecar (actually; placing them on virtual market tables) for you!
We've invited the great artists and designers that you see within our market to participate and join us in order to bring you some of the best handcrafted items available!
If you're an artist, designer, or craftsperson with great things to sell, please contact us!
Many of the items you can find on the site are for sale on Etsy and I have seen them before in my travels through that vast shopping extravaganza - but most of the items I have not seen and wish I had! If you need to get your shopping started (or finished!), if you need to find some Christmas cards, if you want to create your own wish list - go over to Poppytalk and take a look.
The Christmas (Holiday) section will be available until Dec 12th, so hurry!
I love Etsy, I really do, but unless you start searching for specific key words, it's hard to see all the cool stuff - PoppyTalk seems to have done that for you and you get to see a picture of a representative item in the shop along with other pictures all on the same page. Awesome!
Here are a few other places I thought of while I was internet gift browsing today...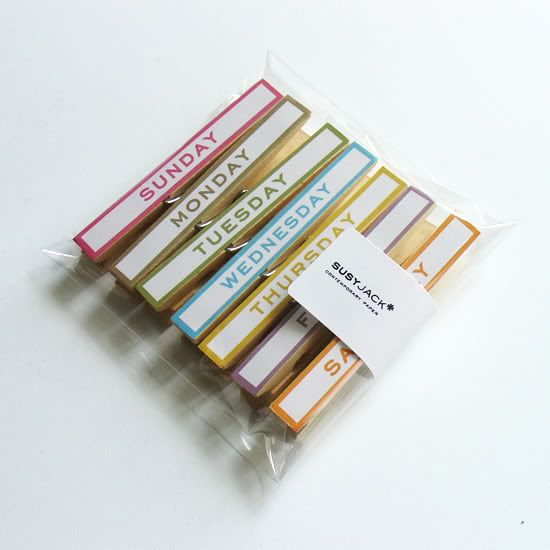 When I first started really looking for fun, handmade stuff online I found this shop
SusyJack
. I had originally found it through another online mecca of all things Officy and organizational -
See Jane Work
. I really like both of these shops.
One last place -
Tip-Junkie
posted this list of
Mom-Prenuers
. The tag is "Buy from Women this Holiday Season." I haven't actually visited but just a few sites on that list, but the ones I did see where real nice.
I hope you have a lovely weekend!
Kristin