We had two tables set up for Thanksgiving at my Aunt and Uncle's home. This is the kids table.
No no no, we didn't have a kids table.
Actually, I counted and over half of us at Thanksgiving were the kids, so I guess technically, both tables were kids tables with random parents thrown in for good measure.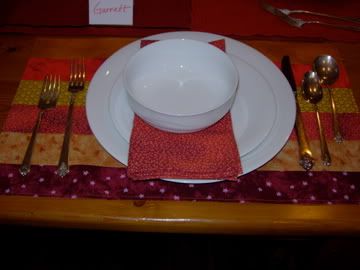 Here is one of the place settings and the other is below. The silverware was my Grandmother's silver that she had at the farm (they kept saying) so this meant that Grandma had this silver when she lived in Welfleet, NE and the kids were growing up, probably in the 50s. I never think to ask for dates when they are telling these stories.
It is beautiful silverware and it was a pleasure to use it.
The beautiful placemats and napkins were purchased from a shop on Etsy. My Aunt Marg posted the links in the comment section, because I didn't have them in the first edit of this post. So here they are. Thanks Marg!
Such Pretty Colors on Etsy
and then the
Such Pretty Colors website
Come to think of it, we were supposed to fold the napkins in some sort of lovely way, standing up like a little hat - I guess we got totally sidetracked and didn't get that accomplished. I didn't even help set the table and I was in charge of the fancy folding - so not sure what happened there! I must have been washing dishes or talking.
These are just the cutest turkey candle holders. We had two of them on our table. The little gourds, my cousin Garrett was adding wire stems and leaves to, to use a place card holders, but I guess that idea was abandoned and the ones he made were used as decoration on the table instead. He made about 6 of them before he left the house for some sort of event with his friends. When you are just back from college, seeing friends is a top priority. I remember his dad doing the same thing when he would come home from college.
So that's the table scape from my Thanksgiving at my Aunt Marg and Uncle Matthews home.
More tomorrow!
Have a wonderful weekend,
Kristin