The picture below is the before shot. It is the only photo we have and I didn't even get the entire front of the house. It's located in a section of Jacksonville called Springfield. So we cleverly named the house Springfield!
I haven't been very involved in this house until recently. We ran out of funds and interest a while back, so the house just sat waiting for us to get our energy back. I asked my husband about a month ago how long he thought it would take to get this house on the market. He said one - two weeks.
Well, I've been at this house nearly every day for three weeks now and I still have a week to go I think. There was so much grime inside the house (insert shudder) closets that were covered in who knows what! that of course had to be cleaned off before painting. I'm cheap labor, so those type of jobs fell to me.
I hired out the exterior painting.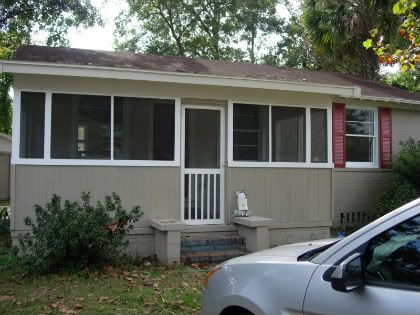 What do you think?? It's a new house! I don't miss that florescent blue around the windows, do you? The steps leading into the house and the concrete floor inside on the screened in porch have not been painted. I thought we might want to leave that for last. Less of a chance of me scratching the paint or getting it dirty.
I love that POP of red on the shutters. The front and back doors were also painted that red. The red door is easy to see standing on the street, but not as easy to see in this particular photo.
The car in the photo - it's a Ford Focus (that's a down payment on a Ford Focus...name that movie) and it's my rental car while my Hyundai is in the shop. I keep forgetting I have this car and when I park it at the grocery store or something I can never find it...but I digress.
I caulked and painted base molding two days in a row (as well as painting and caulking doorframes and window frames) but the base molding in particular was quite a project. It required bending and squatting and painting with my head down and rear end up in the air. All the while trying to paint (or caulk) without getting the white stuff on the hardwood floors. Today I was at one of my rental condos getting it ready for a new tenant and everytime I had to bend down for something the backs of my thighs resisted! I forget how stressful baseboard painting is to the legs and thighs.
Tomorrow is day 6000 working at Springfield (not really) and I have just one more room to caulk and paint the baseboards. The man I hired to paint the exterior is helping inside as well. He and his son worked Sunday and I am hoping hoping hoping that all of the windows are finished and the closets are done. This means we only have the walls to do, the floors to sweep and mop and ohhhh, we have a small section of base molding that hasn't been installed in the kitchen. I forgot about that. Maybe he installed it. Anyway, we are almost done.
I'll take more pictures this week. I can't wait to be done!