I don't know what I was thinking. I have just started visiting this blog,
Organizing Queen
, and she posted something about a computer desk. The picture was just a pristine desk with hardly anything on it. Then she suggested that some of her readers might like to post their desk areas. I laughed and posted a comment saying something smart alec-y about did she want before or after photos.
She sent me an email back and said that she wanted before -- Oh my goodness.
A few brave souls posted their desk photos today -
Go on over and take a look
.
I have to preface this photo with this...
Ever since I got my laptop, I tend not to work in this room. I pay the bills from here and upload pictures, but try real hard not to use this ancient computer.
I have paperwork, Christmas presents, tape gun, calculator and stamps and pens galore on this desk. Chances are this would take only 30 minutes to clean up - and yet, I haven't.
So here, in the world wide blog-land, I am exposing my desk.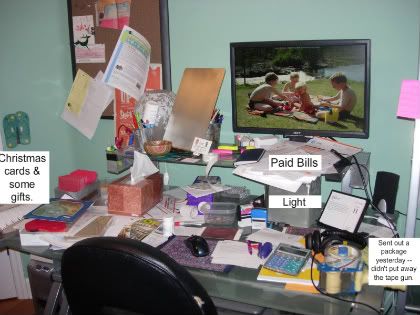 Please come back.
I didn't mean to scare you off completely.
I'll clean it this weekend and post an after photo. Promise, pinky swear.
OK, I posted it. I'm glad that's over.
I'm going to go watch Oprah that I recorded on the DVR today. Peter Walsh is on and he's talking about Clutter! lol Of course that's todays topic, of course.
Go on over to
Organizing Queen
and see what she's got on her website. I've been enjoying her site ever since I found it a few weeks ago.
*** I just noticed that the screen saver has the most unusal picture on it. It is a picture of my friend's child (he's the nekked one in the middle) with his cousins. I have actually never met any of these children. I think this picture was taken in Norway where my friend is from, although she lives with her husband and child in the Canary Islands now.