I was cruising around the internet last night. I was probably reading blogs and clicking on links in the side bars, reading blogs that are highlighted, stuff like that when I came upon this funny sounding name. NaBloPoMo. Huh? It was a website, so I clicked on the link - like this one...
NaBloPoMo
and was taken to a website where the idea is for bloggers to write on their blogs every day of the month. Their acronym means
Na
tional
Blo
g
Po
sting
Mo
nth, but what I've discovered is that each month is National Blog Posting Month.
For those folks who actually have a professional looking blog site with sidebars where they can put in advertisements or buttons, they show the world they are part of NaBloPoMo. Or a part of Secret Santa or Mommy bloggers, etc. I can't do that right now, so every so often I'll just let you know that I'm still in the game.
While I was on the NaBloPoMo site I was directed to a site called
ImageChef
to make up some cool badges. The ones you see here today are from ImageChef and I had a blast playing with a lot of the images and putting my name into them. ImageChef is free and you can put the images on your blog or websites with no copyright worries.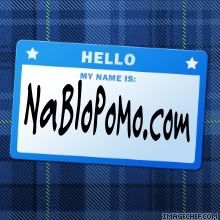 I have signed up and will be a part of National Blog Posting Month for November. According to my Google Reader stats I post about 9.1 times per week. I don't think I'll have trouble getting fun information out into blogland. However, this month, I will be on vacation for about 9 days - so I will have hurdles to get over. I will succeed.
So enjoy this month with me and have a great day!
Hope you had a happy Halloween!
Kristin