Here is aisle 200 at the Jacksonville Home Show. This is where Tom (the guy dressed head to toe in tan) is going to be spending his entire weekend. I joined him for a few hours this afternoon so he could get a bit of a break and eat some dinner. I know that he really wanted to just run around the convention center and talk with people. He didn't eat dinner, he stood around and told stories. Here he is chatting with the guy in the booth next to ours.

Here is the official
Monkey Bars
booth (space 200) at the Jacksonville Home Show. (You can click the photo to enlarge) My husband and his helper/installer put this together yesterday. I'm so pleased with how it turned out. The spring home show they had a much smaller booth and it looked good, but this is by far MUCH better. It looks more like a garage space. This whole set up, including the work table area on the end is $1500 installed.
The Monkey Bars Garage Organizing System helps people Rise Above the Mess. This means to get everything up off the floor and make your garage a place to park your car, not a place that's 4 feet deep in clutter. Long term storage goes in the bins on the top rack and the items you use often goes on the hooks and brackets on the powder coated steel bars.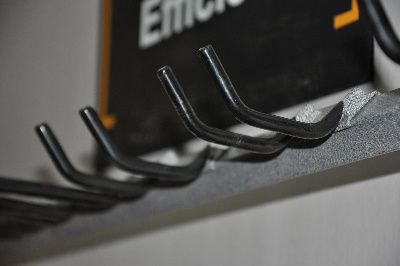 These are just a few of the hooks that literally sit on the steel bars. You can move them easily, but because the bars are square and sit at an angle, the hooks are very secure and won't fall off. It's such a cool system.

My husband, my dear husband, will be busy this month. The home show is a great place to get leads. I bet he'll install 20 systems this month. He'll hardly even know that I'm gone. haha He's already morning the loss of the laundress and dishwasher.

I'm going to head towards Michigan tomorrow. I wanted to leave in the morning, but considering I haven't packed a single stitch of clothing, I'm betting I'll leave more like noon. It's OK, I've got two days to get to Indianapolis, IN, where I'll be staying overnight with my Aunt and Uncle. I'll be fine, though.

I'll be in Michigan for an entire month. I haven't been gone from home that long since I went to Scandinavia with the Blue Lake Fine Arts Choir in 1983. My 25th High School Reunion is October 10th and my sister is having a baby on the 21st (unless the baby decides to arrive earlier than expected) and I certainly can't leave before the baby is a week old, so I HAVE to stay an additional week. I will be blogging and photographing at the same rate, although I suspect I'll have a lot more kid photos as I will be seeing my nieces Zora and Stella on an almost daily basis.

Wish me luck and if you are in the Asheville, NC area, let me know. I need a place to stay Friday night :)

Have a wonderful day!

Kristin