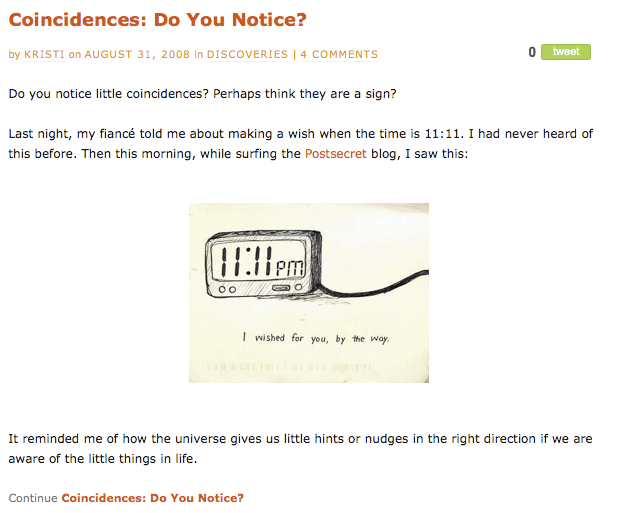 I found this (the screen shot above) on
Kikolani.com
when I was looking for images for 11:11. Now I'll have to come back to talking about coincidences, but first I want to talk about today - November 11th or 11/11/09.
This is one of my favorite days of the year because 11:11 is my favorite time of day. I see 11:11 on the clock a lot. Once a day is not a stretch, but I can probably say with great safety that I see 11:11 on the clock at least 5 days a week. I don't make a wish, but I've heard that's one of the things that should be done when seeing 11:11. I usually don't do anything but smile when I see the time - that and run to the kitchen to see 11:11 on the microwave, the stove and the big clock if I'm in the house.
I decided today that I was going to plan a party for 11/11/11. I think that is a perfect day to have a big party. Don't you think? My friend Bob said she'd come if I planned the party - I'm thinking I'll have to get my guest room ready :)
The
Kikolani.com
site that I mentioned above, talked briefly about coincidences and do we pay attention to them? I'd say that I do! I'm really into cheap thrills and coincidences are cheap thrills in my book. If I see a bright yellow car for the first time in forever I will get a HUGE giggle if I see another one within a few days. If I think of my friend Steve hard enough, he will call me within a day and if I am wanting Chinese food, I'll be fortunate enough to have a dinner planned at a local Chinese place by friends and am told to just show up :) (that happened tonight!)
I sometimes wonder if thinking about something or talking to someone about something and then seeing that exact thing the next day or so is not a coincidence. I see it more as my short term memory is still intact :) or that I was newly attuned to a certain item. I had really never noticed a Hyundai Santa Fe on the road until I bought one. Now I am surrounded by them!
I hope you had a wonderful Veteran's Day and a happy November 11th. I'll see you at my place on this date in 2011?? RSVP please :)
Kristin