Mrs. 4444, from
Half-Past Kissing Time
, hosts Friday Fragments each week. It's a great excuse to get all those little snippets that gather in the brain and don't seem enough for one post but together they can make one fun blog post! I've been writing little notes to myself for the past two weeks of all of the fragments that I needed to write about. Last week I was lost somewhere on Friday and didn't get to my fragments until
Monday
!
.•:*¨¨*:•.

I don't work in an office cubical, but I love to read about the pranks that people pull on others in that type of office environment. I have no idea if it's true or not, but
this little story
is quite amusing! I just love the ingenuity!
.•:*¨¨*:•.

I saw a vanity plate on a vehicle while driving home. OK, so I saw lots of vanity plates on vehicles, but this one I wrote down. It was... SEE-U-BYE
.•:*¨¨*:•.

speaking of cars, when my sister Hillary and I were in the car together she looked over at another driver and said "Drivers Ed - 10 and 2" I didn't catch on right away, but when I looked over I saw that the person had both of their hands on the wheel in the position of the clock of 10 and 2. I'm a two handed driver about a quarter of the time, but I have to admit I tend to hold the steering wheel with just two fingers.
.•:*¨¨*:•.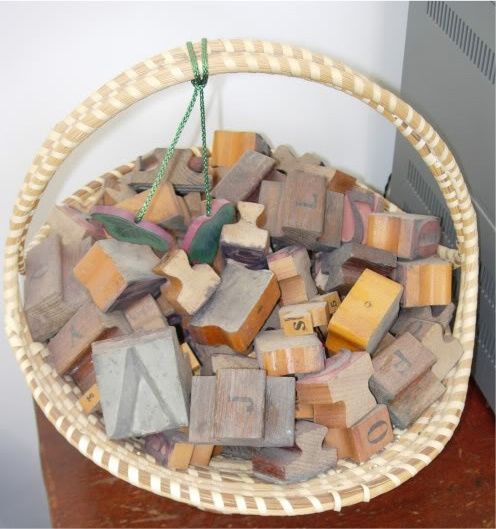 I saw this basket of stamps at an Open House one day and snapped a photo. It's a very interesting decorating element and handy for making monograms on stationery! (It'd be a bear to dust though)
.•:*¨¨*:•.

33 Ways to Start Your Day
- I really liked this post. At first I thought that you were supposed to do all 33 things each morning and I was immediately wondering how much time some people had! But no, it's a suggestion of things you can do. I like suggestions :)
.•:*¨¨*:•.

My mom remodeled her kitchen and a bathroom last year and also changed out a toilet in the remaining bath. The new toilets have self closing lids, which is pretty cool. You just give the lid a little push and it slowly closes all on it's own. After living at my mom's house for a month, I just about scared myself to death when I got back to my own home. I do not have self closing lids and mine go crashing to the seat with that little nudge. My husband thought I might have forgotten how to use the bathroom after hearing that crashing sound several times. (I'm a slow learner) haha
.•:*¨¨*:•.

Book display for kids room
- I thought this was a really great idea and a total DIY that I could do. This would be a fun thing for my sister to put in her little girls room. A small one could be placed in a bathroom and the fabric would be easy to toss in the wash. Oooh, I'm brainstorming :)
.•:*¨¨*:•.

I purchased Photoshop Elements yesterday. I truly understand how clueless I am when it comes to editing now that I have a real editing program in front of me. I have no idea where to begin. I think I'm going to have to lock myself in a room for a little while and learn some of it. I have
my Etsy shop
but so far there isn't a single photograph in it. I was going to get a few of the photos printed and put into frames, so I could photograph them for the site. But a thousand things went wrong getting them printed. Now I think I may have compounded my issues by trying to edit the photos with a new program. It's quite laughable actually. My new deadline for getting product to sell is Saturday night. I do believe I can have at least 6 photos in there by then. goodness!
Thanks so much for coming to my Friday Fragments party. I so enjoy being a part of this each week and the other Fragmenting participants are so much fun as well. Go on over to
Mrs. 4444's place
to see what the others are talking about!
Have a fabulous day!
Minnie Morris (that's a joke from yesterday's post!)
The
NaBloPoMo
site of the day is my blogging friend
5 Cats Shy
. Someone did something really nice for her this week and she's blogged about it, so I wanted to be sure and showcase her now :)