Welcome to my musty, old, fun, cookbook edition of
Thrifty Thursday
hosted by Leigh of
Tales from Bloggeritaville
. I'm focusing on cookbooks today, but you never know what the other participants have found as thier thrifty find.
This week I've put together some scans from some very thrifty cookbooks that I got at an estate sale while I was in Michigan. I got eight books and a folding yard stick for $4. Most of the cookbooks were compilation books lovingly put together by women (I'm sure) as a way to raise money for some event or church event. I love those types of cookbooks, especially the ones from the 50's and 60's, because it really shows what people were eating and cooking at that time.
One of the things that caught my eye in this first book is the section on sandwiches.
I don't eat a lot of sandwiches mostly because I rarely feel like eating deli meat on bread. I think of a sandwich as being that way and only that way. (BLT's being the exception to that thinking!) In the 70's when the "If You Can't Stand to Cook" cook book was written, the idea of having a sandwich was much more varied than I would have ever imagined. You can click on the pictures to enlarge them.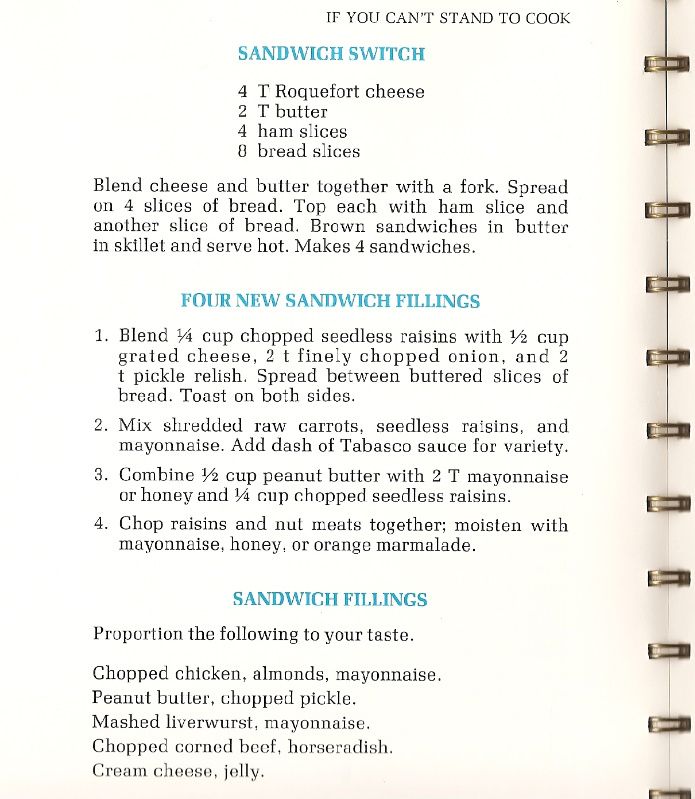 I have to interject - I am not going to eat peanut butter and pickles. I just can't! Ahhh, but someone really liked that combination or it wouldn't have made it into the book.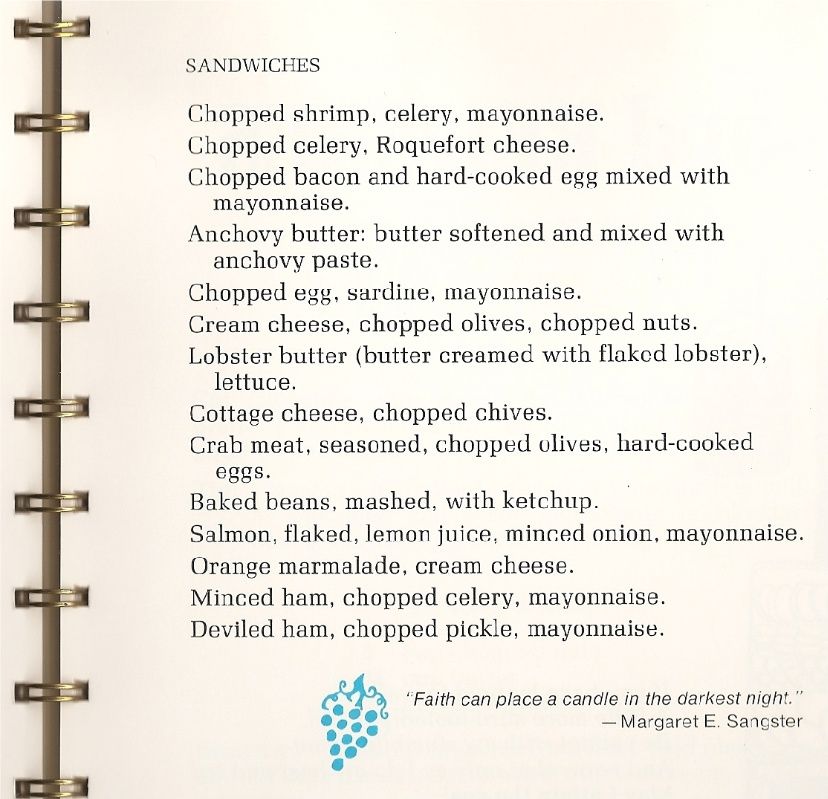 Do you see anything you'd try? Some of the ideas are truly thrifty - cottage cheese and chives? I eat that in a bowl. I never thought of making a sandwich out of it.
"A Flavor Saver!" A metal tea ball holds whole spices, like bay leaves, cloves and garlic. Saves tying in a bag. Hang over the edge of kettle to season food. (Pierce County Medical Auxiliary Cook Book Tacoma WA.)

I thought this was a good tip - one that I wouldn't think of right away. Funny though, I wouldn't put the garlic in there, as I'd want it
in
whatever I was simmering. To me, the garlic is a prize if I get some in my bowl. yuuuummm :)
I am a lover of hot dogs. I love them. It's like a secret indulgence. I now buy the all beef, sold by the pound at my local Fresh Market hot dogs, so that's not thrifty, but it's definitely very good eating. If you've got some of those regular hot dogs hanging around the house, you may want to make up some interesting "Frank" dishes! I may have to try the Frankfurter Stroganoff.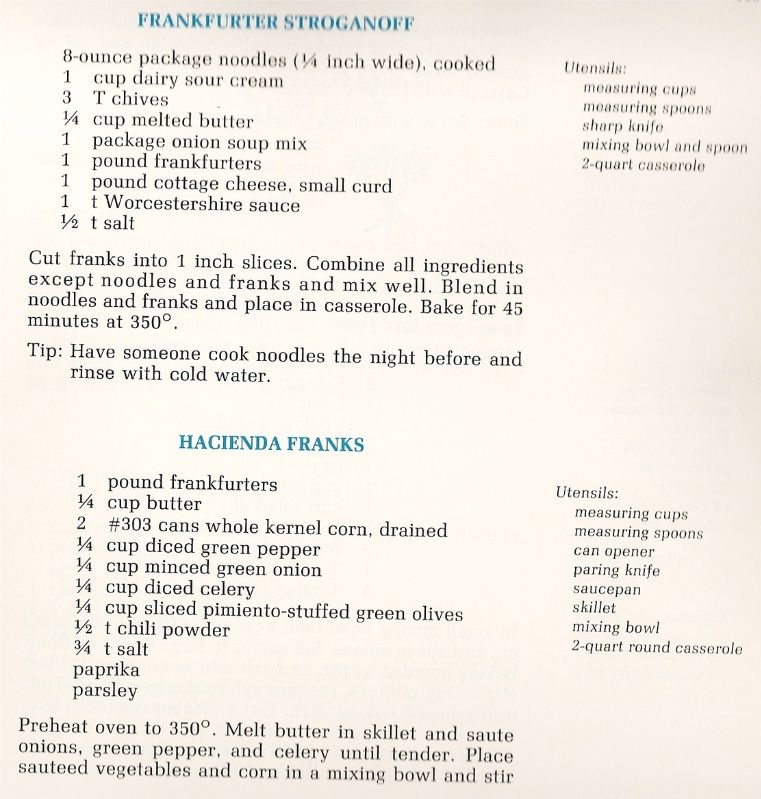 This next section came from a book that had lost it's cover and several pages. I have no idea what organization put the recipes together, but there were some ads in there from Puyallup, WA. so I'm assuming it was at least put together there. Every recipe had a hand drawn something on the page. I fell in love with the drawings before I realized that it was not a complete book. Ah well. Love is blind :)
Don't you just love the names that accompany each recipe? I want to be Minnie Morris :) Maybe I can be for just a day.
Look! more frankfurters and a fun weenie dog haha
The next clip is from a 1976 East Lansing Michigan edition cookbook. The cookbook contained recipes from as many of the families of East Lansing Mayors, city administrators and those associated with Michigan State University. I'll spotlight some of the things I found in that cookbook at a later date, but I had to showcase this snippet. I can't imagine when I'd need to know this, but it's definitely not something I would have ever thought up on my own.
I hope you have a fabulous Thrifty Thursday. Once again, go take a look at the other participants,
here
, and see what fabulous finds they have in store for us.
The
NaBloPoMo
site for today is
Life in the Bogs.

I totally got sucked into the photos and found myself clicking back page after page to see the changes in the pond.
Kristin
(aka Minnie Morris!)