Here it is!
Kristin's Photography on Etsy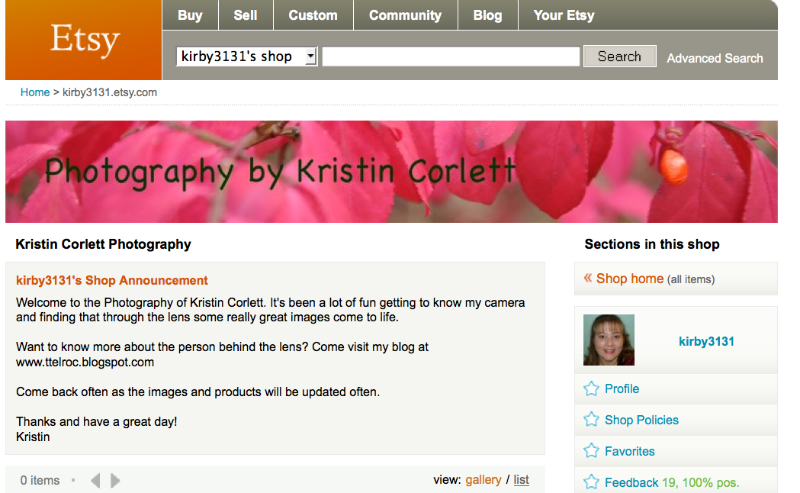 You can click on the image to enlarge.

I spent all of that time trying to pick a name, checking to see if there was a website with that name already so I wouldn't duplicate, seeing if anyone else had a similar name on Etsy, making sure the name looked good written as one word, etc. but when I went to make my site, my username became my website name. It was automatic.
Grrrrrr
I'll have to change this at some point because "Kirby3131" isn't what I wanted it to be called. I think though, now that I've given my address and name, I don't think I can create a new username with those details being the same. I may have to wait until we move LOL Truth be told though, I was pretty well set on naming it Kristin Corlett. I was really thinking outside the box for that one!
I need to get a real banner made. The one there is just a quicky Photobucket edit of one of my photos. I've still got another 14 hours before the end of the day. I don't expect it to be perfect, not now anyway, I just want it functional.
Now I've got to load in some of my photographs. A girl needs something to sell if she's got a site!
Thanks for the encouragement. If it wasn't for my blogging friends I may have never gotten this far. Thank you so much.
Kristin