I've been thinking about Thanksgiving and when I think about Thanksgiving I think of pie. I was talking with my neighbor today and she was telling me that one of the local grocery store chains has run out of canned pumpkin. Can you believe it? There's apparently a shortage!
The next few links can help with that pumpkin shortage and if you are so inclined you can make some of these cute looking pies!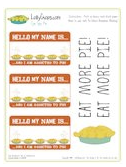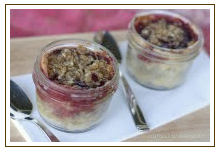 Not Martha - How to make tiny pies
. This is the place where I first heard of such a thing. I bookmarked this page, but totally forgot to say anything about it.
Lloyd and Lauren - Short and Sweet
. These are technically not pies, but they are small frozen treats and they look delicious.
Lolly Chops - the Download and Print page
. The first three posts includes the Eat More Pies download and the pie printables in both tree motif and a turkey motif. They are near the middle/end of each post.
Our Best Bites - Tutorial on how to make single serve pie
. The second picture above is from this site. It's a really great tutorial and Best Bites and Lolly Chops have gotten together to make the printables and the tutorials. It looks like a good collaboration!
Here's a list of some
printable calendars from Decor8
. Oooh, there are a lot of fun ones in this lot. These aren't free, but they are very inexpensive and you can print them over and over again.
The photo to the left is from
Up Up Creative on Etsy
. This seller has several calendars for sale and even more printable items for sale. I like these calendars, simple, basic and bold.
Decor8 has several calendar roundups -
Wall calendars
,
desk calendars
,
poster calendars
, and
other kinds of calendars
that don't fit into the above categories.
Oh So Beautiful Paper
also did a calendar roundup -
Part One
,
Part Two
.
Below is the calendar that I just purchased from
Lisa Samartino Atelier's site on Etsy
. It's an 8 x 10 print so it will easily fit into a nice frame. I am totally in love with chandeliers so when I saw those I was pretty much a goner. I loved all of the l
arge graphics
in the calendar set.
I know this was quite a link fest, but I just couldn't stop myself once I got started. I think I have about 30 different windows open. I'm lucky I bought just one item! haha!
Have a wonderful evening.
Kristin