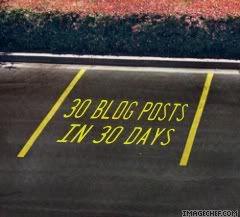 Do you all realize that it's November 21st already? This month has literally just whipped by me. I've been participating in the
National Blog Posting Month (NaBloPoMo)
which means to publish 30 blog posts for the 30 days of November. I even decided that this year I'd donate a prize.
You see, every blogger that signs up with the group that actually posts something each day for the 30 days will be eligible to win a prize from those that have been donated. I wanted to make something for last years NaBloPoMo but I got pretty distracted or something and never got my act together.
This year, however, I got my
Etsy Shop
up and running, so I had something to donate!! I'm so excited to do that. I now have a whopping 17 items in there. More coming soon. :) I hope the person who wins my prize finds something they really like!
Another thing that I'm doing this month is a little Secret Santa shopping for someone. I can't reveal who she is because it's a secret! But Georgie of
Decisionally Challenged
has the great master list and organized the Secret Soiree again this year. I've been having a lot of fun picking out items to put into the Secret Santa Gift box. I'm sure my blogging recipient will be thrilled! I think I'm supposed to have my Secret Santa gift in the mail the first week of December, so I hope to wrap up (literally!) the gift buying by Thanksgiving.
Did you know that there are only 37 days until Christmas! Eeeek.
I have already given most of my gifts to my family - but I do need to figure out what photo I'm going to use as my Christmas photo and get those ordered. I need to get them put up on my Etsy site, too, come to think of it. The first of December is almost to late to the thinking about cards, but I'm sure I'm not the only one who is planning late.
I hope you have a wonderful weekend - I'm on my way out the door at this late hour to go see New Moon.
Kristin