Mrs. 4444, from
Half-Past Kissing Time
, hosts
Friday Fragments
each week. It's a great excuse to get all those little snippets that gather in the brain and don't seem enough for one post but together they can make one fun blog post! I love to have you smile when you come over to visit. I hope I've done so! Please visit Mrs. 4444's Fragmented post so you can find even more severely fragmented posters like me.
*•-:¦:-•:*''''*:•-:¦:-•*

My husband got home Wednesday night. He arrived with a cold. Sneezing, coughing, blowing his nose. I was gone from October 2nd - 31. He left November 8th and got back on the 26th. I didn't bring home a cold or the flu, you'd think he could have disposed of that illness before he got home. sigh. Thankfully he's able to sleep.
*•-:¦:-•:*''''*:•-:¦:-•*

I slept on the couch last night. We have another bed but it wasn't made and the cat has been sleeping on the comforter in there for a month. The couch seemed like a better choice. I originally went into my bedroom to sleep, but I couldn't stand having the coughing man next to me. Why is it when
I
get sick I sleep on the couch or guest bed and when
he
gets sick I end up on the couch or guest bed? I'm going to get the guest bed cleaned up and de-furred today, before I'm ready to plunk into bed, that's for sure.
*•-:¦:-•:*''''*:•-:¦:-•*

Once a month we have a WWW group that meets and goes out to dinner. The WWW stands for Women's Wine and Whine. It consists of the women who are a part of the Liver Transplant group. We can be caregivers or patients, pre or post transplant. Most of these folks don't drink, but the person who started the group did, so the name stuck. :) This last time we met we wore name tags because we had a severa new folks & returning friends who hadn't met this group at all. The tiny restaurant was packed so we noticed everyone who was coming and going. At a table near us, two women got up to leave and one of them looked over and waved "Bye Kristin. Bye Brenda." Brenda and I both looked at each other as if to say - do you know her? When we both realized that the woman was reading our name tags. How funny.
*•-:¦:-•:*''''*:•-:¦:-•*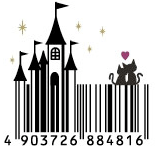 I found these cute
Barcode designs
online. I've always been fascinated with barcodes (I know, I'm weird) but how fun to have something functional and yet creative at the same time.
There are a few dozen different designs, go take a look!
*•-:¦:-•:*''''*:•-:¦:-•*

There is this beautiful magazine that I keep buying and it drives me crazy that I do it. The darned thing is $15! (OK, so I've only purchased three of them in the past year, but still) I think it comes out every two months, but that's a ton of money. Why am I upset that buy it? Because it's called
"Artful Blogging"
and it's about blogs. I'm buying something that is about something I can read online. All of it is online and it's free! and I'm paying $15 a pop to read it in a magazine format. I have to admit it's gorgeous and I have found a lot of lovely blogs through it and I've read them each a few dozen times. That's better than most magazines. I tend to flip through them once and only read about 1/3 of what's in it. Come to think of it - I wonder if my local library has copies of this magazine? hmmmm, that's an idea. :)
*•-:¦:-•:*''''*:•-:¦:-•*

I was standing in front of the pie case at my grocery store when I realized I coudn't for the life of me remember if my husband liked pumpkin pie or not. I was thinking it was a yes, but I was scratching my head, so I decided to pick up the phone and call him. He picked up and I said, "Do you like pumpkin pie?" He said, "yes, I love pumpkin pie." I told him OK thanks, that's all I needed to know and we hung up. The woman standing next to me said "How long have you been married?" and when I said 7 years she about fell over laughing. She was sure we we were newlyweds haha Nope. I'm sure I'll have to ask him again next year.
*•-:¦:-•:*''''*:•-:¦:-•*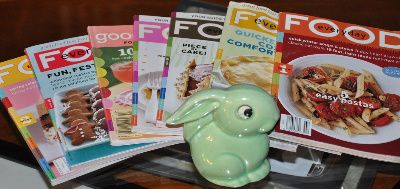 Tis the season of giving!
Would anyone like to have 7 of the Martha Stewart Everyday Food little cookbook/magazines? (
bunny not included
) I just noticed that one of them is Issue #2. Shoot me off an email (Kirby3131(at)gmail.com) and I'll toss those in the mail for you. I just haven't used them even though I want to! I want to entertain. I want to make cookies and 5 easy pastas but I just can't seem to get that accomplished. Maybe you can? The first one to raise their hand (by sending an email) gets them! Shipping is on me.
(UPDATE: We have a taker! Thanks for playing along. )
*•-:¦:-•:*''''*:•-:¦:-•*

I hope that you had a wonderful Thanksgiving and that you will have lots of leftovers to eat through the weekend. I will not be going to any of the Black Friday events, as it is nearly noon, I've missed most of them! but I did get my DVR fixed today - yeah!!!!! Life is good :)

Have a great day!

Kristin