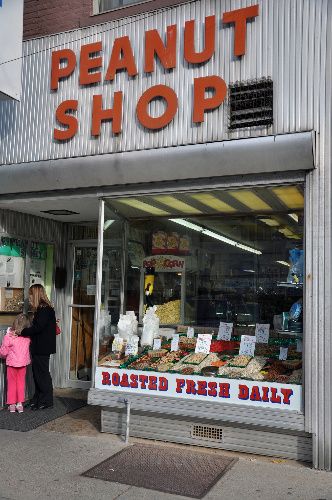 The Peanut Shop in Lansing. MI was established in 1960. I really didn't know about this place until the mid 90's when we opened up our coffeehouse. Oh my goodness the smell of roasted nuts on Washington Square was always so wonderful. The Dancing Goat Coffeehouse was just two blocks away on the same street and every so often I would take a trip down the road to get a bag of nuts to take home with me.
On this particular day I was in Lansing with my sister, Alison and her daughter Zora. Scarlett had just been fed, so we took this opportunity to leave her with Jim and we went to Zora's school to pick her up and then stop by The Peanut Shop.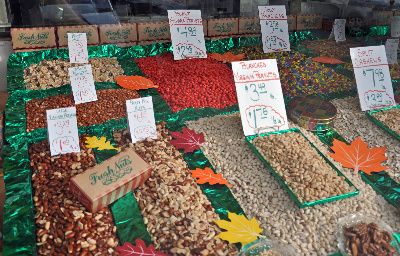 This is the sight that greets you when you walk by the Peanut Shop. All of those lovely nuts. Seriously, this place smells delicious! They have 37 varieties of fresh roasted nuts (if I remember correctly.) They even have hot peanuts in a little bin at the front counter. The store holds about 10 people if you don't mind being crushed. I tried a few times to get a photo of the inside of the store, but there was never a time when we were there, when we were alone. It's a busy little place.
Alison and Zora have a new tradition, probably just two years in the making, but one that they both enjoy. Just before Halloween they come to The Peanut Shop to get a bag of...
Candy Corn!
Zora walked directly to the back of the store and pointed to the candy corn with a big smile on her face. She was so relieved that there was still some left. We got a pound of the candy corns, a few toffee and chocolate pieces and a bag of mixed nuts as I recall. It was a quick trip but well worth it.
If you ever find yourself in Lansing, MI make sure you take a trip to The Peanut Shop.
The Peanut Shop
(517) 374-0008
117 S Washington Sq
Lansing, MI 48933
Wishing you all a wonderful Thanksgiving,
Kristin