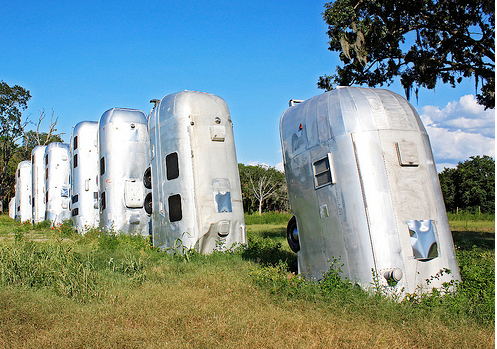 The things you find from fellow bloggers! I found this incredible attraction while I was reading a
NaBloPoMo
(Nat'l Blog Posting Month) member,
(mis)adventures of spindlerose
, blog. She talked about this in her post
Florida Surprise
.
It's called the Airstream Ranch and it's on I-4 in Dover, FL. I had no idea where Dover was so a little Googling was in order and I found out that it's between Lakeland and Tampa.
It looks like the Airstream Ranch is having some legal problems as it's not quite in the right zone for such an installation. I'm not exactly sure what you'd zone this, but the owner is having legal troubles all the same. This has been going on for a few years. What a headache! I would like to see this someday, so I hope that the city decides to let them stay. I've lived in Florida since 2003 and have never been to the West Coast of Florida, so it may be a few years :)
The NaBloPoMo member,
(mis)adventures of spindlerose
, is a knitter. I've always admired the craft of knitting as I've been the fortunate recipient of several wonderful scarves lovingly knitted just for me :) I have, however, never wanted to take up the hobby as I have plenty of hobbies right now :)
One of my new blogging friends, Denise of
Mommy's Journey
, asked me if being a member of NaBloPoMo meant that you had to feature a different blogger each day? That is just something I wanted to do. So the answer to her question is no. The only thing you are asked to do to be a part of
NaBloPoMo
is to blog every day for 30 days.
Have any of you ever seen the Airstream Ranch?
Kristin