I asked my husband...
Wait.
Let me rephrase that.
I led my husband gently to the answer I wanted to hear and on Sunday around noon we had brunch at the Brick.
You can enlarge the photo to see the menu, but what I focused on was the Tenderloin Benedict. It's been a few years since we came here for Brunch and I seriously dream about this meal.
As you can see from the menu, they specialize in Benedicts :)
They do them well.
Very well.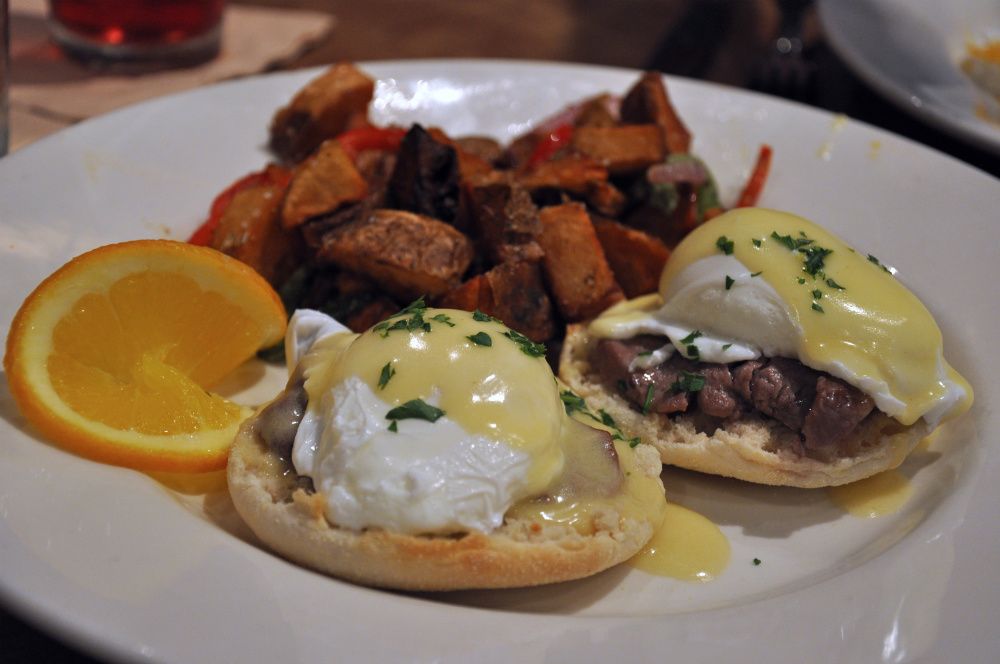 Here is my meal. Oh, my goodness!
I don't know if you remember the movie Annie, the one with Carol Burnett, but one of the little orphans says "Oh my goodness, Oh my goodness" in a certain way. That's how I say it every time I think it. Sometimes I even say it out loud that way, but to be honest, I don't sound like a 5 year old so it just doesn't come out the same.
BUT, Oh My Goodness! this is so good.
I was offered home fries or grits. I chose the home fries because Tom doesn't particularly care for home fries, so I figured I might be able to eat all of the food on my plate.
Turns out he LOVES the home fries at the Brick, after he had a taste. They were tossed with green and red peppers, so he always gets dibs on those from my plate. (insert wrinkling of nose here. Not a fan of peppers)
I've watched the movie Julie and Julia enough times that I should know how to poach an egg by now - maybe I should do that and make this meal for myself. But honestly, for $14 and only having it once every couple of years, I do appreciate the hollandase, eggy, tenderloiny goodness being served to me. It makes it a very special meal.
Are you hungry yet?
Kristin