Louis Sullivan, architect
September 3, 1856 – April 14, 1924
Louis Sullivan, born in Massachusetts, grew up on his grandparents farm. He became fascinated with nature while on the farm . Later when he spent his teen years hanging out in Boston exploring the streets and taking note of the buildings he connected the two interests - nature and architecture.
He was an incredibly smart fellow and realized that he could graduate high school a year early and attend MIT if he were able to pass a series of exams. He did and proceeded to study architecture at the Massachusetts Institute of Technology at the age of 16.
He quickly discovered that MIT wasn't teaching him anything new, rather he was being taught the minutia of Greek Architecture, Roman architecture, etc. This was not what inspired Sullivan, so after a year he left MIT and moved on to Philadelphia for a short time.
What got Louis Sullivan to Chicago was Mrs. O'Leary's cow.
Well, not necessarily the cow, but the Great Chicago Fire of 1871.
Eventually it was determined that the fire destroyed an area about four miles (6 km) long and averaging 3/4 mile (1 km) wide, encompassing more than 2,000 acres (8 km²). Destroyed were more than 73 miles (120 km) of roads, 120 miles (190 km) of sidewalk, 2,000 lampposts, 17,500 buildings, and $222 million in property—about a third of the city's valuation. Of the 300,000 inhabitants, 90,000 were left homeless. Source
Chicago was all of a sudden in desperate need to reconstruct its city.
By 1873 Louis Sullivan was in Chicago and was working. It wasn't quite what he was looking for at the moment, so after a year or so he went to Paris to study architecture again. Once again, just like at MIT, all of the studies were concentrated in the past. He stayed a year but did get some inspiration from Michelangelo and he learned to allow creativity to guide his work not just replication of the past.
Back to Chicago Sullivan travels, becomes a draftsmen with one firm and then with Dankmar Adler in 1879. Within a year he was made partner with Adler.
The partnership with Adler is where he had his most productive work.
Chicago Auditorium theater
In the beginning of their partnership they were most notably known for being theater designers. Adler knew how to make the acoustics of a theater or opera hall and his firm was sought after. In 1889 they finished the
Auditorium Building
in Chicago. It housed a 3000 seat theater as well as a hotel and office building. Adler and Sullivan took the top floor of the Auditorium building as their offices.
Buffalo, NY
1896
One of my favorite buildings. Very Very Favorites.
Guaranty Building, which he designed while partnered with Adler. Completed in 1895, this office building in Buffalo, New York was visibly divided into three "zones" of design: a plain, wide-windowed base for the ground-level shops; the main office block, with vertical ribbons of masonry rising unimpeded across nine upper floors to emphasize the building's height; and an ornamented cornice perforated by round windows at the roof level, where the building's mechanical units (like the elevator motors) were housed. The cornice crawls with Sullivan's trademark Art Nouveau vines; each ground-floor entrance is topped by a semi-circular arch. source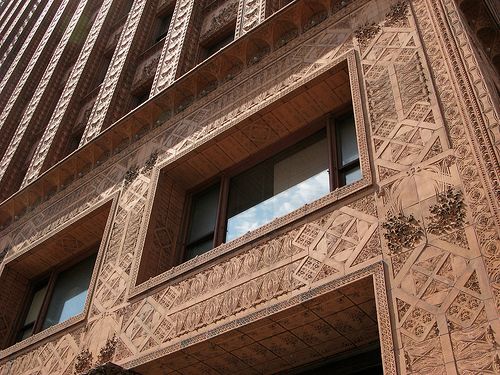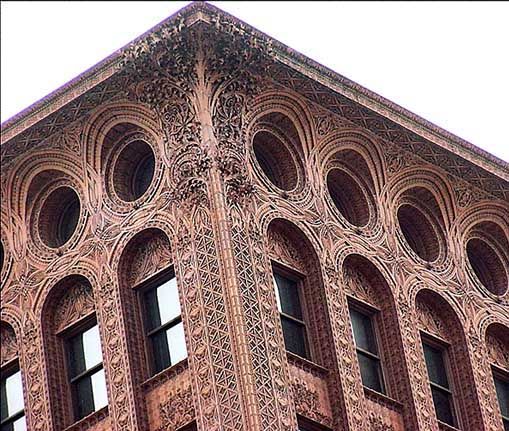 I just love how the tree tops fan out at the top and wraps around the edges.
The sheer volume of ornamentation is just so incredible that it's almost too much...but honestly, I love it. This is an 11 story building and it's been decorated from top to bottom. Imagine seeing it for the first time. I bet it would take your breath away. I think it's spectacular.
I have more on this building, but I'll wait for another day.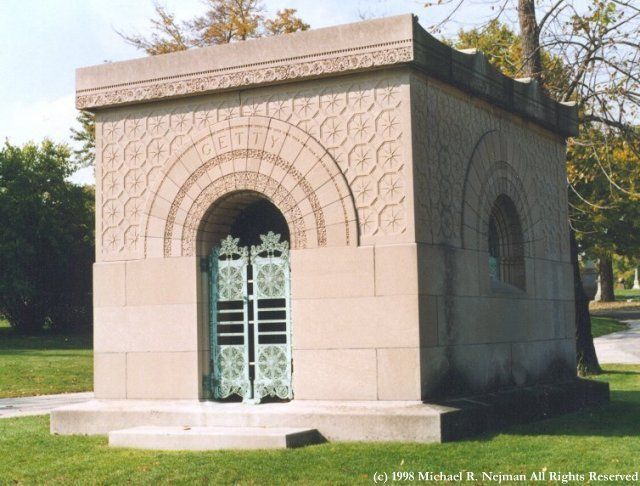 The
Getty Tomb
was commissioned in 1890 by Henry Harrison Getty, and is located in the Graceland Cemetery in Chicago. I bet there are some photo opportunities in that cemetery. I'm almost wanting to pack my bags and go right now!
Owatonna, Minnesota
The National Farmers Bank 1908
In later years, Adler and Sullivan went their separate ways, as Adler disbanded the firm. Sullivan found it increasingly harder to find work and he began a very long period of decline. One of the projects that he took on probably for financial reasons only was to design a bank. With the success of that bank, came more bank commissions. These banks were called
Jewel Box Banks
.
If you look at the bank above and look at the Getty Tomb, you will notice the similarities. It's a restrained punch for a small space. It was a cornerstone piece for these small towns. Can you imagine having something like this being built in your little small town in the early turn of the century?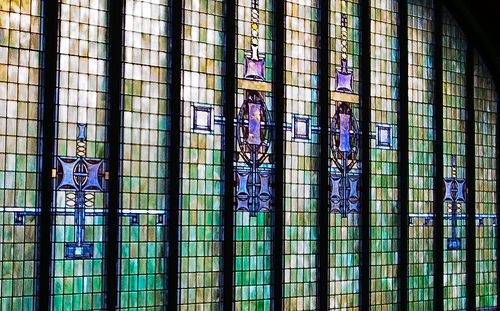 Here are the stained glass windows in the The National Farmers' Bank. If you look at this, can you see a bit of the Frank Lloyd Wright style? I hadn't mentioned it before, but Wright apprenticed at Adler and Sullivan. He called Sullivan
Lieber Meister
(German for Dear Master) and worked for them from 1888 - 1893. When looking through the photos of Sullivan's work, I can see where Wright got a lot of his early influence and the beginings of his own style. This stained glass is just one example that reminds me of Wright.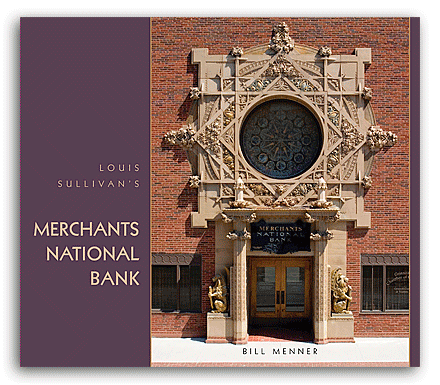 Grinnell, Iowa
Merchants National Bank
1914
The Merchants National Bank was another one of the Jewel Box banks. That ornamentation is incredible. I bet the view of that stained glass window on the inside is spectacular.
The architects and draftsmen that Sullivan worked alongside pitched in and paid for his funeral and headstone.
Sullivan ...died, poor and alone, in a Chicago hotel room on April 14, 1924. He left a wife and four children. A modest headstone marks his final resting spot in

Graceland Cemetery

in Chicago's

Uptown

neighborhood. Only yards away from his resting-place, some of Chicago's lesser-known but much wealthier dead are entombed in handsome and distinctive tombs designed by Sullivan himself. A monument (shown) was later erected in Sullivan's honor, a few feet from his headstone.
The photos in this blog post were all found through Google Images. I didn't credit them because I pulled so many photos and so many were the same that I truly wasn't sure what photo came from what source. Thank you blogland for having so many photos of this exceptional architect.
The reason for this post was because I saw the documentary "
Louis Sullivan - The Struggle for American Architecture
." I blogged about it a few weeks back,
here
.
I hope that you have enjoyed this little bit of American history and architecture. I only grazed over the surface of this subject matter, but I hope you enjoyed it.
Thanks so much for coming by.
Kristin