Hello Friday!
Oh how I've missed my Friday Fragging friends. The past two Thursday nights have been crazy insane and busy (and fun!) as I was getting ready to go away and then I was away. I love vacations, but it sure is good to get home again.
Thanks to Mrs. 4444 of
Half Past Kissing Time
for getting so many incredible bloggers together for some fun and interesting fragments. She is just a wonderful host. Thanks so much
Mrs. 4444
. Thank you!
*•-:¦:-•:*''''*:•-:¦:-•
You know it's got to be a legitimate offer if the sender of the email is named "Perfectly Legal."
*•-:¦:-•:*''''*:•-:¦:-•
I love these two commercials from Geico. They make me laugh as soon as I see the commercial starting.
I crack up when he tosses the kleenex box. What a hoot!!
*•-:¦:-•:*''''*:•-:¦:-•
A few weeks back my niece asked me to send her a card, a purple card. I've been looking all over for a purple card and I am seriously getting discouraged. I'm going to have to make one at this rate.
*•-:¦:-•:*''''*:•-:¦:-•
I love tutorials and tonight I was searching around for a specific tutorial (couldn't find it and not telling - not yet anyway) but I did find a blog that specializes in tutorials. It's called
Totally Tutorials
. It looks to be updated on a daily basis and has a search box and labels so you can find a subject matter that interests you. I'm excited to dive into that site and see what's there. Maybe I'll even write a tutorial!
*•-:¦:-•:*''''*:•-:¦:-•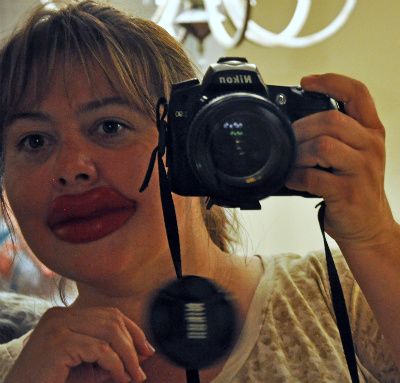 This is me, taking my picture in a mirror, with giant, waxy, smoochy lips. If you'd like to look at the photos of the shenanigans with my friends and the red lips, please go ahead and read the post "
A Nice Pair of Lips
," it's a hoot!
*•-:¦:-•:*''''*:•-:¦:-•
You really need to be talented to hurt your thumb while holding a plate. Seriously. I was holding my dinner plate, while sitting on the couch of course, I reached for something and the plate started to tip. I used my thumb to grab onto the rim to keep it from tipping. I felt a little twang of pain for a second but really didn't think too much about it. However, it's now been a month and the tendons, ligaments, muscles, bones, whatever it is still hurts quite a bit. I am the jar opening queen and I've been totally incapacitated. It's not broken, but I do think it's strained. What do you think? I have a doctor appointment in a month. Can it wait? or should I make an appointment to have him say "It's not broken and when you strain your thumb muscle (hahaha) it takes a long time to heal." I would have been the one laughing in the middle of that sentence. Is there such thing as a thumb muscle?!!
*•-:¦:-•:*''''*:•-:¦:-•
Thanks so much for stopping by. I hope you've had a wonderful week and I wish you a fabulous weekend.
Kristin