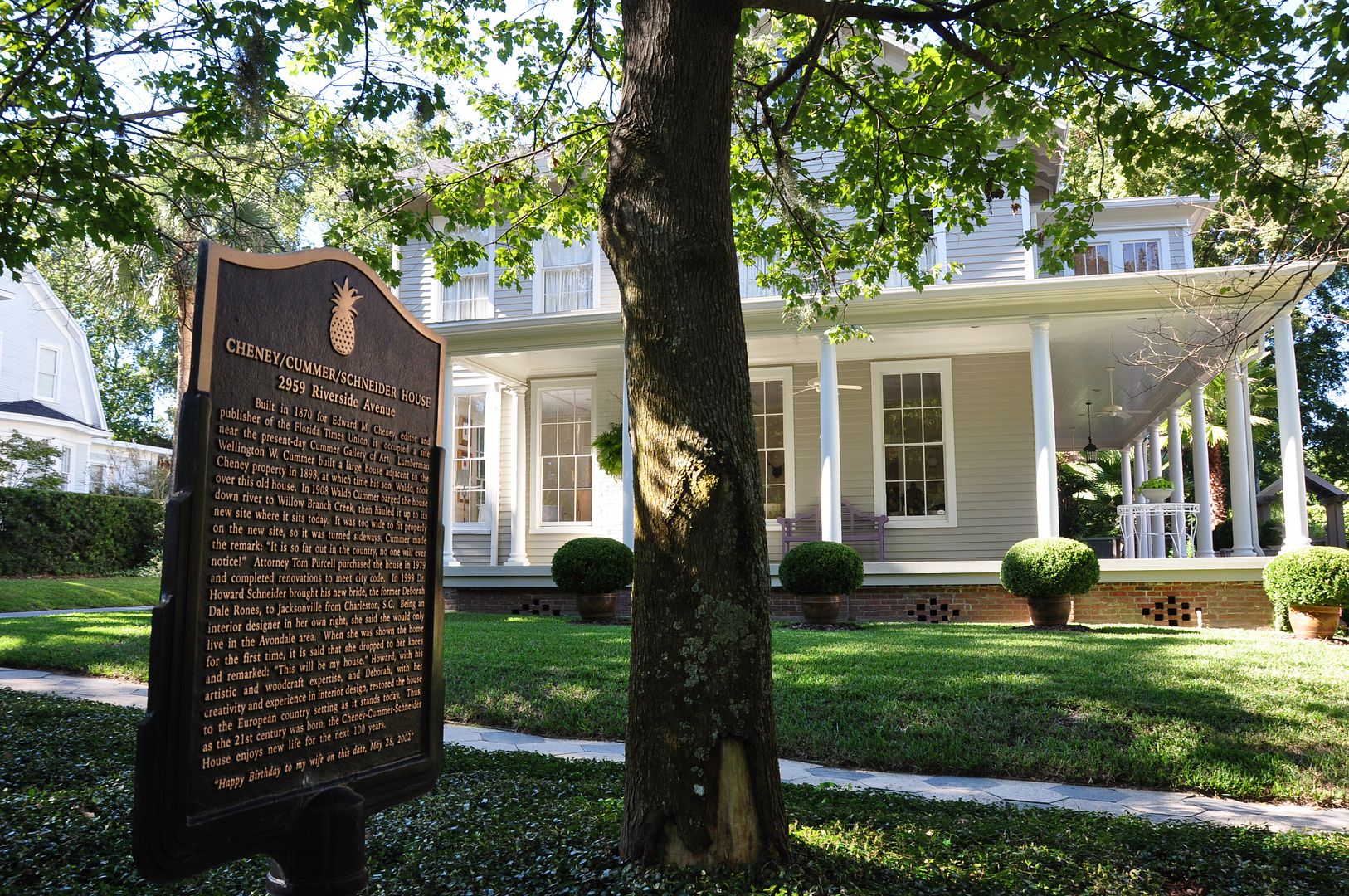 I often drive around and take photos of houses.
Saturdays seem to be the day that I do this and this Saturday was no exception.
The character of the house, the landscape, the trees and the street just intrigue me. I often wonder the history of houses and make up my own stories.
This house conveniently had its history written on a plaque for all to read.
I wondered why this house was sideways and the plaque explains why.
The sign says...
Cheney/Cummer/Schneider House
2959 Riverside Ave

Built in 1870 for Edward M. Cheney, editor and publisher of the Florida Times Union, it occupied a site near the present-day Cummer Gallery of Art. Lumberman Wellington W Cummer built a large house adjacent to the Cheney property in 1898, at which time his son, Waldo, took over this old house. In 1908 Waldo Cummer barged the house down the river to Willow Branch Creek, then hauled it up to its new site where it sits today. It was too wide to fit properly on the new site, so it was turned sideways. Cummer made the remark: "It is so far out in the country, no one will ever notice!" Attorney Tom Purcell purchased the house in 1979 and completed renovations to meet city code. In 1999 Dr. Howard Schneider brought his new bride, the former Deborah Dale Rones, to Jacksonville from Charleston, S.C. Being an interior designer in her own right, she said she would only live in the Avondale area. When she was shown the home for the first time, it is said that she dropped to her knees and remarked: "This will be my house." Howard, with his artistic and woodcraft expertise, and Deborah, with her creativity and experience in interior deisgn, restored the house to the European country setting as it stands today. Thus as the 21st century was born, the Cheney-Cummer-Shneider House enjoys new life for the next 100 years.

"Happy Birthday to my wife on this date, Mary 28, 2002"

For more
Sundays in My City
please visit Unknown Mami. She has a great group of folks that show off their towns around the world. Thanks, Mami!
Have a great day!
Kristin