A few weeks back (maybe it was a few months back) I talked about El Azteco and the famous Topopo salad,
here
. I didn't have a photo of the Topopo salad at the time because we had gotten it togo and at El Az ("el ez" as the locals call it) a togo Topopo Salad is made on a large Chinet paper plate and then covered with another Chinet paper plate. It's not pretty and not photograph worthy either, although it is still very delicious.
However! Monday afternoon my sister Alison, daughter Stella, my Mom and I made our way to El Az and split a Topopo. Yum! Before we dug in, I snapped this photo.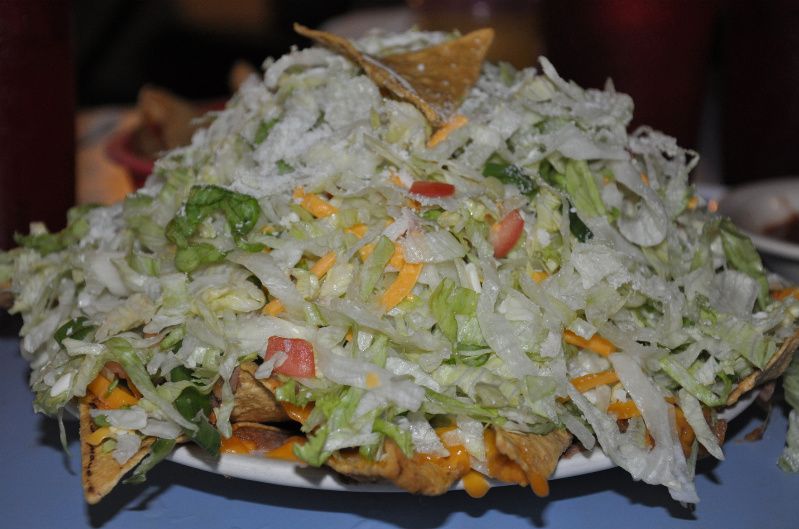 The last time I talked about El Az, I mentioned that I needed to get the recipe. Well, I did just that. I had forgotten that I was part of a Facebook group called "I used to eat El Azteco UNDERGROUND." In that group was the recipe to the famous salad and also a comment from my friend. So I included both.
El Azteco used to have a location in East Lansing, MI that was located in the basement of a building. I honestly have no idea what was above, but I do remember going below to have some really great Mexican food. My friend Steve and I used to go there together. I don't think we ever had a Topopo salad at that time. I was not educated in the awesomeness of this great salad. It would take a few more years before I learned a valuable lesson. Eat the Topopo :)
TOPOPO SALAD (Serves 4)
INGREDIENTS
4 cups of iceberg lettuce
2 1/2 ounces Roma tomatoes, diced
2 1/2 ounces cooked, shredded Chicken
2 1/2 ounces Cheddar cheese
2 1/2 ounces Monterey Jack
Jalapenos, minced, to taste
2 1/2 ounces frozen Peas, thawed out
2 1/2 Green Onions, chopped
Oil and apple cider vinegar dressing (2:1 oil and vinegar), to taste
4 ounces fried tortilla chips
4 ounces pinto beans, mashed
4 ounces additional cheddar cheese
3 ounces guacamole
1 tablespoon Romano grated cheese
PREPARATION
Combine iceberg lettuce, tomatoes, chicken, first two cheeses, jalapenos, peas and scallions in a bowl. Mix well. In a separate bowl, mix oil and vinegar. Toss with salad mixture.
Take tortilla chips and spread evenly on a serving plate. Spread pinto beans over the chips. Spread additional cheddar cheese over the pinto beans. Put in the microwave for about one minute, or until melted. (You may also place in an oven pre-heated to 350 degrees for about 10 minutes.)
Spread guacamole over the melted cheese. Top with salad mixture to form a mound. Sprinkle with Romano grated cheese.
***My very dear friend JB (aka Bob) wrote this on the "I used to eat El Azteco UNDERGROUND" Facebook Forum.
Hi! I worked every aspect of El Az, from prep cook to wait staff. The true secret of the Topopo salad is in the oil and vinegar dressing: canola oil and apple cider vinegar. Trust me, I made mountains of Topopo while in "the channel" the section of the kitchen that made nachos, bonatos, and topops...with or without chicken! Mix it all together in a bowl, mound it by hand! LSJ has a great recipe, but make it canola oil and apple cider for authenticity, and your memories will flood back in full color!!!!
xoxoxoxo♥
JB

In the same information about the Topopo salad on Facebook was this bit of information about the restaurant, so I thought I'd include it, too.
ABOUT EL AZTECO
Summer wouldn't be complete without a trip to El Azteco's roof-top patio, and a sampling of the restaurant's famous Cheese Dip or Topopo Salad.
The story of El Azteco began in East Lansing in 1976, when owner Arturo Santa Cruz had a vision to bring authentic Mexican food to college students at a cheap price.
"The whole product was meant for college students, and then it expanded into a family restaurant," says manager Heather Patler-Holguin. "The students grew up and had families and kept coming to El Azteco."
Patler-Holguin says her favorite thing about working at El Azteco is that family atmosphere.
"A lot of student employees stay here all the way until they graduate, and we have regulars who have been coming in since they were kids," Patler-Holguin says. "It's a big family, from the customers to the employees."
The Topopo Salad, Patler-Holguin says, is one of the restaurant's most popular summer dishes.
"The idea is it being the counterpart to the American chef salad," she said. "It comes out like a mountain, and we even put mounted cheese on the top, so it looks like a snow-capped mountain. People like to come in for lunch and split it four ways."
Thanks to
Facebook group"I used to eat El Azteco UNDERGROUND,"
to the
Lansing State Journal
for publishing the recipe at some point (because that's how it was posted on FB,) and to my friend Bob for working there and helping make the recipe Fabulous!
I hope you have a wonderful day and I hope you make a Topopo salad at some point in the very near future. If I make one, there will not be a jalapeno in sight! Too hot for me :)
Kristin