Before this whole blog thing that I've been doing, it really never occurred to me to photograph the buildings and signs of my favorite places. Some business signs aren't even my favorite places to shop but I love the signs nonetheless. I noticed as I was driving through East Lansing, Lansing and Grand Ledge (all in Michigan) last week, that I wanted documentation of everything. I wanted to have that sign in my photographic possession before it got taken down, remodeled or went out of business.
I went to my old high school and it has been remodeled, added on to and renovated so extensively that I couldn't even find a portion of the building that held my memories.
I didn't take too many pictures of those signs because I was always on my way to somewhere else, but I got a few. I'll get more on the next trip.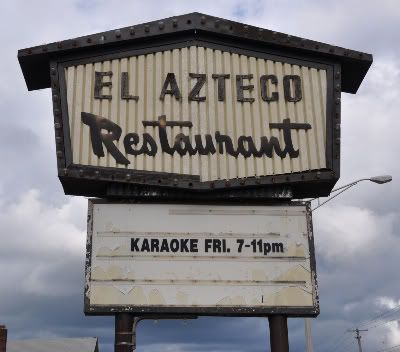 This is El Azteco at the corner of MLK Blvd (which I will forever call Logan Ave) and Saginaw Hwy. I worked here for three whole days. I actually liked it, but the owner and I had a difference of opinion and I quit. I continued to eat there though. They have the best mexican food. Actually, there is this salad called a Topopo (ta-poh-poh) that is to die for... my friend Bob used to work there. I'll have her give me the recipe and edit this post to add it in. hint hint Bob. :)
EDITED -
Topopo Salad post
I had a Topopo while I was in town. We had it To Go, so it wasn't as grand, but it was great.
Look at that sign though - it's a disaster. It's falling apart, peeling and has lost so many of its bright lights, but it's perfect. The newer location in East Lansing has a totally different sign, different lettering and is crazy colorful. I love this sign in its simplicity. Black, White and Broke all over :)
Curious Books is a used bookstore on Grand River Ave, right across the street from the campus of Michigan State University in East Lansing, MI. I actually can't go into this store because I start sniffling and sneezing just about the moment I step through the door...but I've been in there once and I will never forget loving it. The sign always makes me smile and I hope it stays around for a long long time.
Ahhh, the
The Peanut Barrel
. I went to the PB with my friend Steve several times. We used to sit at a table with a pitcher of beer between us and talk and laugh and catch up. We would eat peanuts and sweep the shells on the floor.
I went to lunch at the
The Peanut Barrel
with a girl I'd just met a few hours earlier - and we became fast friends within minutes! (It's another Bob story -- I have hundreds)
I had several fun evenings with coworkers from our coffeehouse, The Goat, on the patio of the Peanut Barrel and I've spent many wonderful afternoons also on the patio with family and friends during the nice summer days.
I always liked the neighborhood entrance sign. Ever since the alley got a makeover, it's much more pleasant to enter this way.
Have you ever seen something like this? It's an extreme case, granted, but this is a habitrail. A colorful, modular playplace for mice or hamsters.
In East Lansing, MI a new parking structure was built in the 80's or maybe the early 90's, I can't find the correct time period right now - anyway the city of East Lansing asked for a unique design for a parking structure that was festive and did not use brick. What was approved and built was something that looked like the fun little habitrail above.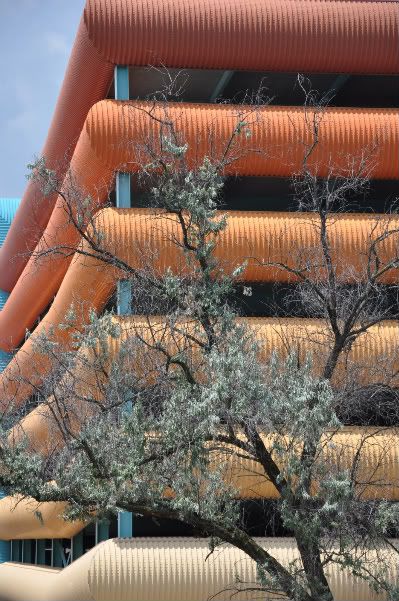 Personally, I LOVE the habitrail. I love the name, too.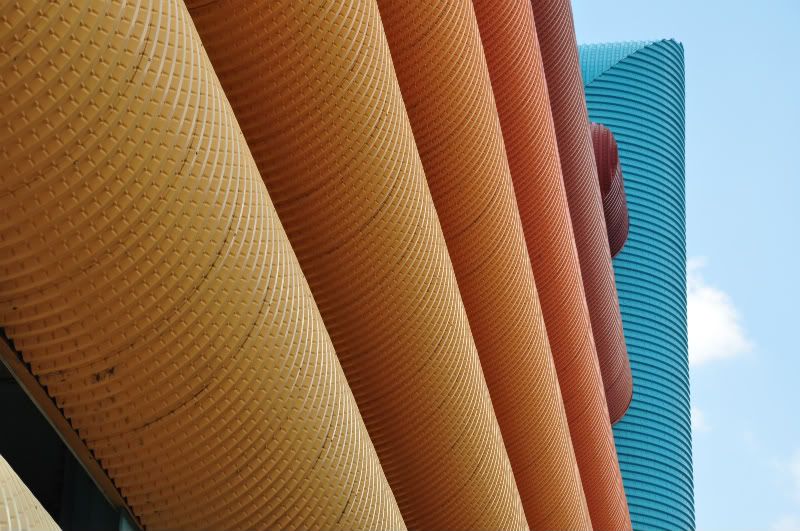 It's so interesting to look at from all perspectives.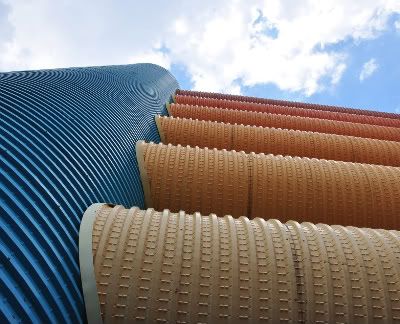 It brings a splash of color above the one and two story buildings that surround it and I always smile when I see the "festive" colors of the parking ramp that looks like a habitrail.
I hope to document to many other meaningful, to me, landmarks of my home town. I may even start documenting more in my current town.
Have a fabulous week!
Kristin