I'm so excited! I'm going home tomorrow. I'm flying into Michigan around 11am and I hope to be smooching on Zora's cheek by about 11:15! I think she's coming with my mom to pick me up.
Alison and the girls went to Pentwater, MI for a vacation a few weeks ago and they snapped a few photos. Here's Alison with Zora in pink and Stella in stripes. Alison is having baby #3 in October. Alison's husband, Jim, is a musician and he had a few gigs in the Pentwater area, so they rented a house for the week.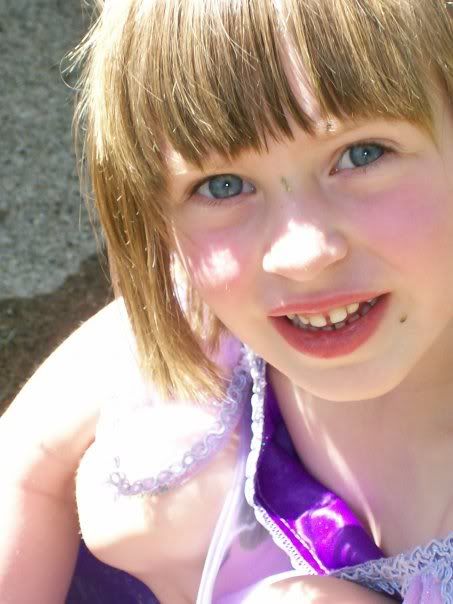 This is Zora - she was wearing this very beautiful purple princess dress and was elbows deep in mud! Kids will find mud only when dressed up...at least that's what I've heard.
Here's the brown-eyed girl, Stella. I haven't kissed this face since she was 5 months old. She's got so many teeth now! I hope she warms up to me quickly, as I can't wait to hang out with her.
My mother with her granddaughters in Pentwater. Zora loves being with Nana. They have a date every Friday. They go swimming, exploring, picnicing, and play in my mother's garden. I'm sure they had a blast spending the whole week together, even if they did have to share their time with Alison and Stella!
I'll be home a week and I'm already going to be pretty busy, but I hope to see all of these folks every day. My husband arrives back here in Jacksonville in just a few hours. He's been in Michigan the past two weeks. We're tag teaming right now. Tom went to his cabin in the Upper Penisula, visited with his brother, went to Lake Michigan and other assorted stuff. I'm planning on visiting with my parents, sisters, nieces, meeting up with old HighSchool friends and going to an art fair. Not much adventure, but a lot of fun.
I'll be back next week!
But don't worry, I'm sure I'll update each day as usual :)
Kristin