On Sunday we loaded up the car with Zora, Stella and my Mom in the back seat and Alison and I up front and drove over an hour to an art fair. I wish I could say I enjoyed the festival...it felt more like a home show outdoors and not very art fairsy. I was bummed that we went all that way for something not worth the effort, but we did find a very small section of the fair with artwork produced by local and regional artists. One of the things available in that section of the fair was children's face painting.
Zora was thrilled that she was able to get one of the fanciful creations on her face. I was thrilled to be able to watch this artist create a butterfly in just a few minutes.
We took the before photo first (which is always best when getting a BEFORE shot)
Zora didn't move once this very nice man, whose name I totally forgot to write down, put his hand on top of her head. I kept wanting to ask him if he was using some sort of acupressure technique to keep Zora so still. It was truly amazing.
I had to laugh at her crossed legs. So adult :)
One of the other amazing things was this sponge. The artist loads up the sponge with the colors he needs - in this case it's just the red and orange to get the eye done real quick. Then he goes back and loads up all of the colors with the brightly covered makeup and puts in all of the butterfly colors at once. It took seconds.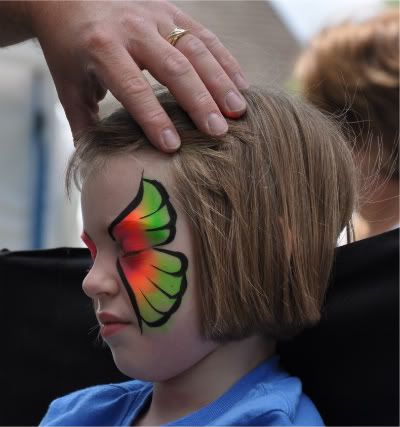 Then he jumps in with a paintbrush full of a thick black eye liner type liquid and fills in the outlines of the butterfly.
Zora was so still I almost thought she was asleep! So far Zora had been sitting still for about 5 minutes. This guy was So Fast!
He put a little glitter on her cheeks and put a glitter lipstick on her bottom lip. She loved it. I loved it too. By the end of the day, I'd almost forgotten that she wasn't born with a big colorful butterfly on her face :)
All this enjoyment for $5.
A few moments after the face painting, we met this copper man. Zora wanted a photo op with him. Doesn't he look real? I gave him a dollar.
We may not have enjoyed the fair, but we did enjoy the day together. Sometimes it's the little things :)
Have a great day!
Kristin