Yesterday I posted a lovely picture of a
geranium.
It was supposed to be a part of a bigger post about my mother's garden...which is coming up right now.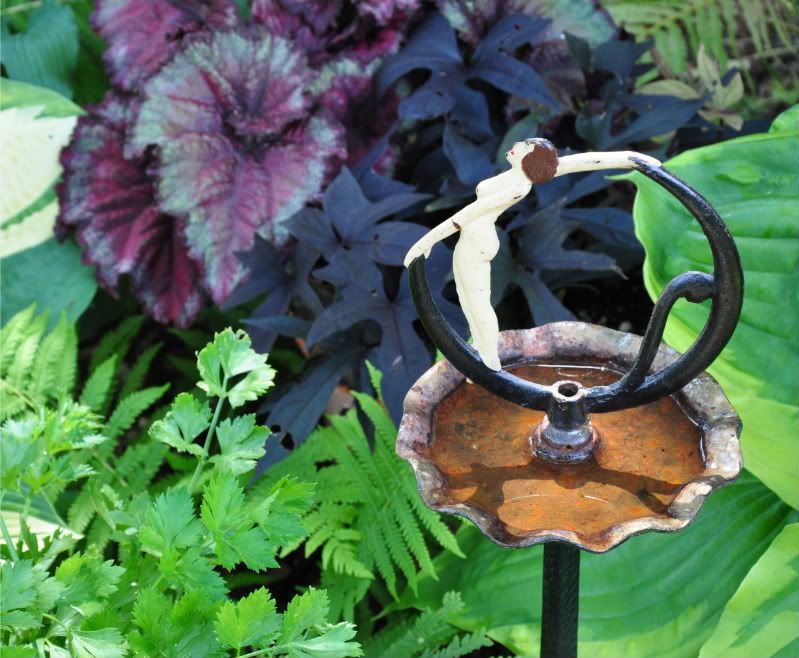 This is an antique ashtray that has been in my mother's home for years now, but had been moved to the basement, sort of just hanging out in the keep pile. We all liked it, but it just wasn't finding the right place inside the house. Now, it's a wonderful decorative piece outside and is making a great birdbath.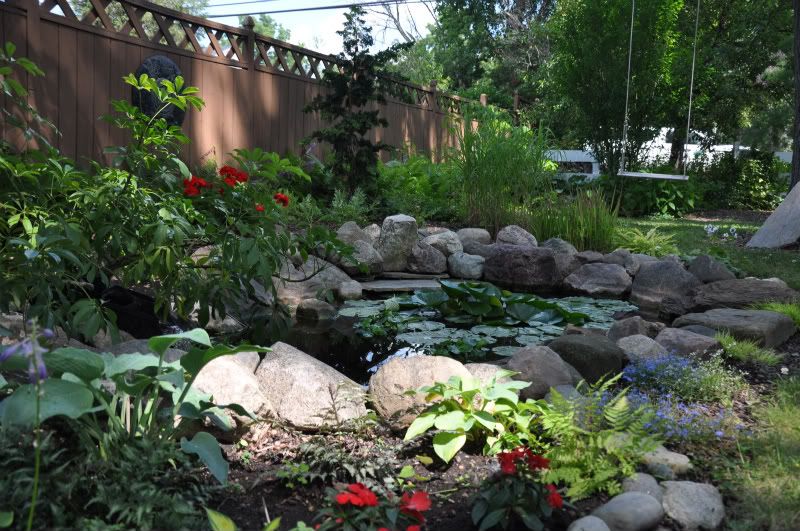 Here's the pond area. It's lovely. The fish stay in the pond year round (I know, I didn't take a picture of the fish - you'll have to use your imagination. They're there.) Zora loves to play in the pond, the cats love to walk on the stones and I've even seen the raccoons try to do a little fishing. I don't like the sound of running water, but this pond's waterfall is very quiet and I actually enjoy having it there.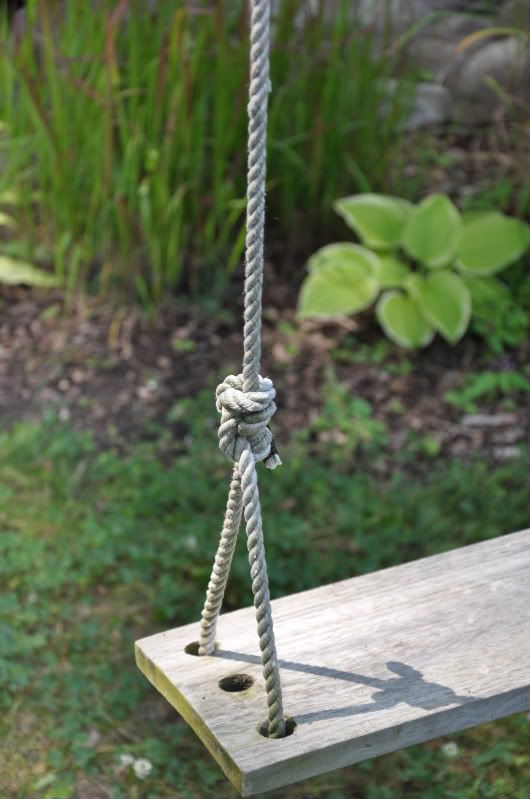 The swing. My Mom loves to swing and I sometimes wonder if this isn't her favorite place in the yard.
I've never been a huge fan of daisies, but these are quite nice. The ones I've grown have never really done well, so I think that affected my relationship with such a friendly flower.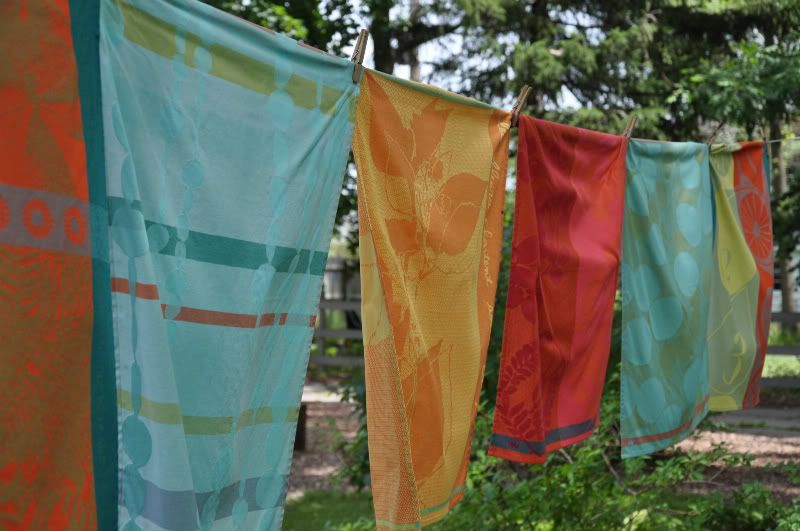 The clothes line in mom's backyard usually don't hold clothing. They hold dishtowels. She decided a few years ago that she liked bright colors hanging on the line, so she decided to hang dishtowels. I'm totally in love with dishtowels, so you know I love this.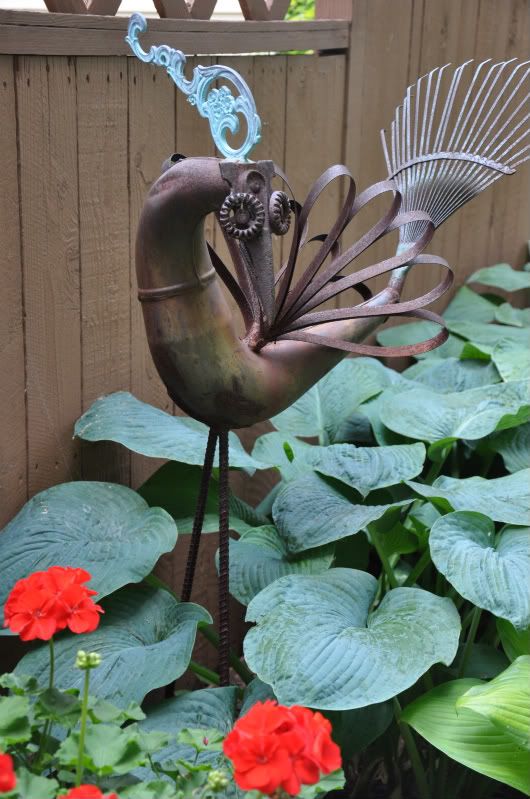 The yard bird made out of discarded elements. My mom has had this for years.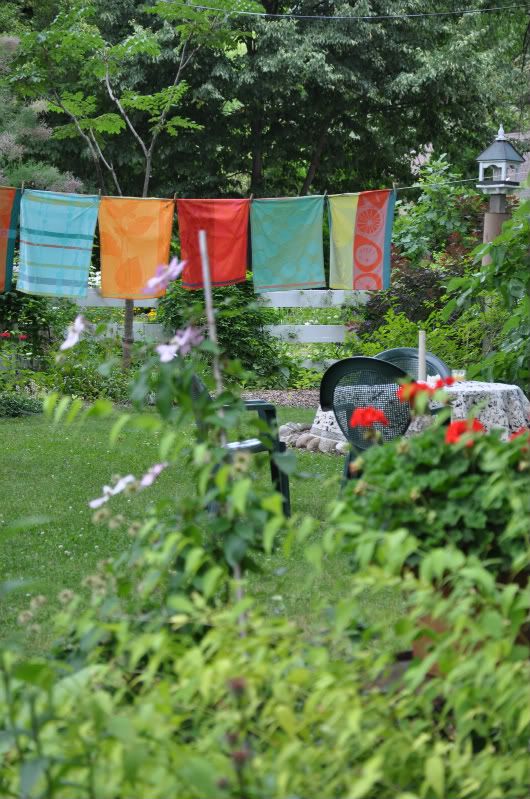 The wider view of the backyard. The towels look nice, don't you think?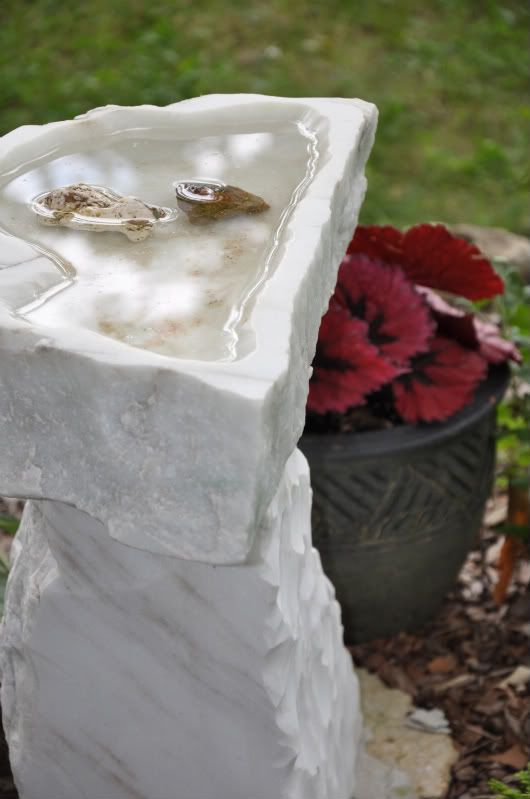 This is a gorgeous marble birdbath. That's all I can really say about it. I love it.
and last for tonight - the abstract metal piece. It looks so nice with all of the giant hostas.
I hope you've enjoyed the garden tour. I enjoyed sharing it with you.
Have a fabulous day!
and by the way...I'm back home in my own living room in Jacksonville, FL. Whew, what a long travel day.
Good Night!
Kristin