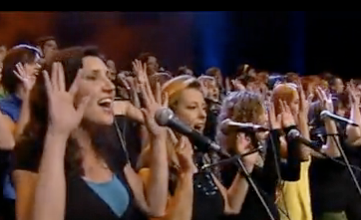 OMGoodness! I just saw something that brought tears to my eyes so quickly that it shocked me. It's a singing group from Slovenia (Perpetuum Jazzile) singing the song "Africa" - remember that song from your 80s music vault? It was by the group Toto.
If you do nothing else, just listen to the first minute or two and hear the rain. It's truly spectacular.
You probably won't cry, like I did. I'm kinda emotional.
Click on over to Kim Komando's site and watch it... please
Video of the Day
- Perpetuum Jazzile
*****************
While I've got you here. Two of my support group friends got Liver transplants this weekend. Holidays always bring with them a bit of hope for transplant folks, but unfortunately that means that tragedy must have struck someone else. I'm so thankful that two of my friends were able to receive something they so desperately needed because a grieving family gave the gift of life. Thank you.
*****************
My husband is in Michigan (for many reasons) but one of them was to visit his brother who is still in the hospital. Yesterday (Monday) marked the 5th week he's been in the hospital. That is virtually unheard of here at the Mayo Clinic Hospital. Many patients can go back to their home towns after just 21 post transplant. I just don't know what to make of my brother-in-law's situation. He is still unable to walk, but yesterday, with the help of Tom and someone else, he was able to stand up and shuffle to a chair. This is PROGRESS!! I do believe he is going to be sent to a rehab hospital very soon and I'm so pleased. He's so weak right now, he needs to be up and moving. I think overall he is doing so much better. All of the complications that plagued him post surgery have been cleared up and he is definitely on the mend. What a struggle this has been.
*******************
I'm going up to the hospital today to visit with my neighbor, Jim, who I just learned was admitted yesterday morning. I'm also going to visit my transplant friends. I'm probably going to run down to the 3rd Street diner and get a spanikopita (spinach pie) and a diet Coke, too. Here I am wanting to go visit with friends and all I can talk about it food. I think I'm hungry right now, that's probably why!
*******************
I've been trying to join in on Friday Fragments over at
Half Past Kissing Time
and haven't been able to due to the number of groups I'm in that post on Thursdays and Fridays. So I guess I've been saving up for this.
Mrs. 4444,
I'll eeek in some time when my journal wrecking group is done. :) I'm making up for it right now, though, I'm full of fragments lol
*******************
A few weeks ago, when I was at Barnes and Noble - That was the day I bought Wreck this Journal, as a matter of fact. Anyway, I was standing at the magazine racks next to this lovely woman. She kept turning around making sure the two little boys she brought with her were still sitting on the bench. All of a sudden one of the little boys said "You are going to miss me when I'm gone. You don't realize it now, but you will...trust me." I looked over and saw that the older boy was holding on to the younger one - playfully but I'm sure he was holding on a bit tight lol The woman then looked at me and said, "I swear, those two have been on this earth before." I laughed. When I looked at the boys again, they really did look like old souls.
What a strange conversation to have at a magazine rack with a total stranger.
*******************
I need to go get a bite to eat, my stomach just informed me that it's been far to long. You've heard those sounds, right? The stomach growls? I'm here to inform you that they are REALLY loud when the house is totally quiet.
Have a fabulous day! Catch ya later.
Kristin