Have you ever thought of your identity?
When your name is said wrong or misspelled doesn't it just bug you?
My name is spelled wrong and mispronounced all the time although I'm pretty much used to it. I get called Christian, Kristine, or Kirstin. My last name is a totally different thing though -- Unless someone knows me, they put the emphasis on the wrong syllable when saying Corlett. I pronounce it like Corvette, with the emphasis on the first syllable.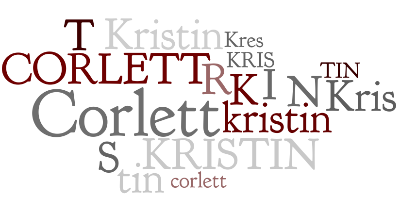 However...
On Thursday I had an appointment with a dermatologist, one that I'd never been to before. So when I gave my name at the front desk I was quite surprised when they didn't have any record of me or my appointment.
I gave my name.
I gave my birthdate.
I spelled my name.
Nothing.
They couldn't find me.
I thought I was losing my mind.
Finally someone said - Do you know a Kristin Legg?
I told them that my husband's last name was Legg, but that I didn't take his name. I'd never used that name and neither had anyone else. They told me that my insurance company gave them that name and that I had to use that name in all of my documentation with them. I argued strongly that Kristin Legg didn't exist. She didn't share my birthdate, my SS number, my address, nothing. That was not MY identity. I knew who I was and that wasn't it.
I filled out their paperwork, but not as Kristin Legg.
I signed everything Kristin Corlett.
I received a few prescriptions all made out to Kristin Legg. I told them to be sure to have new scripts ready for me the next day in my real name, because the insurance company wouldn't honor the ones made out to Kristin Legg.
Imagine my surprise when I was right!! They have no record of Kristin Legg.
So back to the dermatology place.
They had to redo my chart with my real name.
They had to give me new scripts.
They didn't have to redo my paperwork because I know my own name.
Goodness, what a hassle. Good thing I don't have an identity crisis.
Hope you have a spectacular weekend!
Kristin
Kristin Corlett - the original since 1966