Zora and Stella's Daddy is the keyboard player in a blues band,
Root Doctor
, and tonight they were playing at an outdoor venue. That's usually a pretty good indication that the kids can go - so after going to the zoo this afternoon, we went to the concert tonight.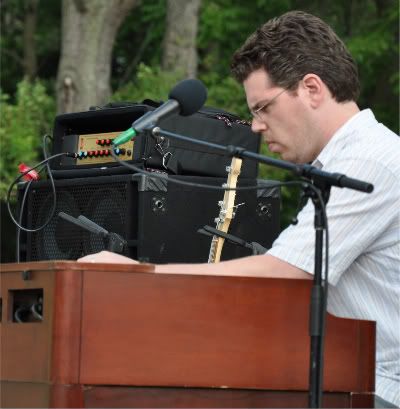 This is Jim. He loves to have his children there. He looks for them when he's playing and Stella will clap like crazy when he looks over at her.
Zora's friend showed up tonight, so they had a great time dancing to Zora's favorite song. (Which, I learned this evening, is usually the 3rd song.)
Most of the time though, Zora was playing with the sidewalk chalk. Every time I tried to take a picture of her playing she would run away. I did manage to get a picture of one of Zora's drawings though -- This is Sonic, the Hedgehog.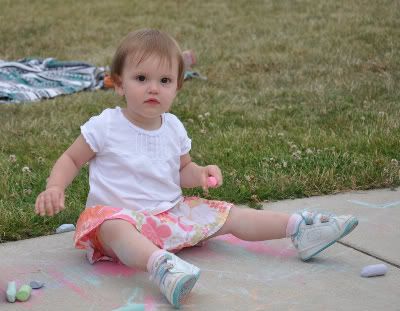 While the band was on it's break, Stella decided she needed to be a part of the sidewalk chalk artists group. She had a blast.
Today, I spent the morning with my Mom, showing her all of the pictures I've taken so far with my new camera - just 500 or so, went to the zoo with Alison and the girls, then off to the concert after dinner. Now I'm loading the photos onto my computer and waiting for my mom to get home so I can find out how the play was that she went to this evening. Then I'm off to bed. Not quite sure what I'm up to tomorrow, but I think I may be seeing a friend I haven't seen in ages! I'm excited about that.
I hope you've had a great day!
Kristin