I've always been a fairly lucky individual when it comes to finding things and winning things. It's not like I've won the lottery (well, mostly because I don't play!) but I in general, I find myself on the receiving end of a lot of good fortune.
One of my latest good fortunes was to win the giveaway in honor of
Boutelle Family Zoo's 100th Blog post
. Trisha has a real crafty nature and she has been blogging about transforming dressers and adirondack chairs and she's turned a neglected wall into a family photo wall that rivals magazine pages. She's been a lot of fun to meet the past few months and I hope you get a chance to go over and see her and her family at the
Zoo
.
OK, I know you want to see the loot!
Good, cuz I want to show you.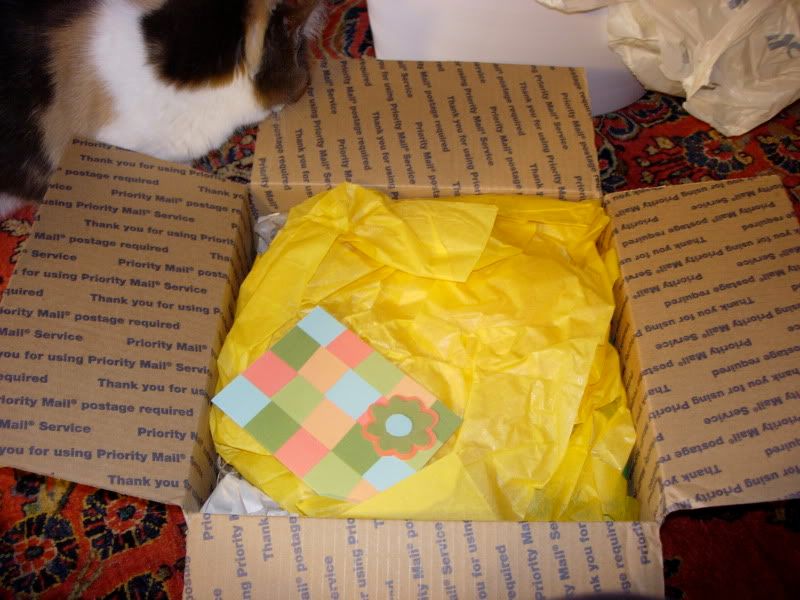 I don't think Trisha had any idea how much I love tissue paper or how much I love yellow and green (green tissue was below the vibrant yellow!) It was a lovely surprise just upon opening the box. The card was lovely, too and said the sweetest things inside the card, too. Thanks Trisha!
I couldn't tell if she had made the card - there wasn't a mark on the back, so I'm assuming it was a handmade card. It went so nicely with the tissue paper, too!
Now here are the goodies. The two rolled up towels are dishtowels. You can see them on her blog -
here
- I took a few photos of them unfolded, but hers are better. They are incredibly soft - I can't wait to add them to my dishtowel collection. They will be well loved and well used, that's for sure.
Also enclosed were two little banana leaf cups that are so sweet. I think she called them candle cups. Since I don't burn candles, I'm sure I'll fill them up with some kind of collection...paperclips, binder clips, hair bands or barrettes - something that I use all the time, I'm sure.
The wooden box is so so soft - if you can imagine soft wood - it's smooth and old and worn and beautiful. I'm more excited about this box than I ever imagined. I would have had a hard time giving this one away, Trisha!
She included a sweet little birdy. I think I'm going to hot glue him to something. It's too cute.
Now that final gift - the surprise in the package were the chalkboard frames. These were not a part of the giveaway, so totally unexpected. She wrapped them up in yellow tissue paper... I had to unwrap them. The aqua color is so pretty. I love it! Trisha has been painting things this color in her home quite a bit lately, so I'm assuming this is part of that gallon of paint - and I can see why she's using it, it's gorgeous! I'm so excited that she sent these - I've always wanted to make these, but ... fill in the blank for a million excuses. Now I've got them and they came as a great surprise!
Thanks so much Trisha!
Kristin