The past two weeks have been a lot of fun for my dear journal, but the past week in particular was so much fun for my niece! She and I spent a lot of time going through all of the pages and talking about them. When I got to "Chew This Page" I thought she was going to bite my hand off! Instead she took a rather large chunk out of the side of the page. Now that's enthusiasm!
Last week I mentioned that I sent my journal through the United States Postal Service approx. 1200 miles from my home in Jacksonville, FL to my Mother's home in Michigan. I arrived on Wednesday and the journal arrived on Thursday. It looked like it had never been touched. Not a speck of dirt. If you'd like to read the story of trying to get it sent, you can find that story
here
.
While at my Mother's home I decided to "compost this page" in her compost bin. I don't have one in my condo at home, so this was a nice alternative.
I sent off one of my favorite pages to
Dawn
. She said on her
blog
that she had a few favorites she wanted to send, so I raised my hand and we exchanged favorites.
I was thrilled to see that she sent the fruit sticker page - it was filled to the brim with stickers!! There were a lot of stickers I had never seen before and since we've had this directive (to collect fruit stickers) I seem to have a vast knowledge of the fruit and veggie stickers in my local store.
The envelope she sent was FABULOUS! It was interactive and inventive and wonderful. She also enclosed a Fortune Teller Fish. Have you ever seen one of them. Gosh, I haven't since I was a kid. Here's an online picture of the fish. I couldn't get a good picture of it. My fish moved it's head and tail at the same time, so it claims that I'm in love - awwwww.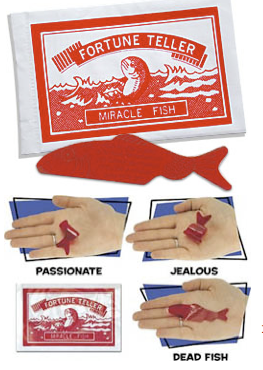 Thanks so much Dawn!! It was a pleasure!!
I live on the top floor of a 5 story condo and there isn't a good way to throw anything out the windows because everything is screened within an inch of it's life. So when I got to my sisters home in Michigan I realized she had a 2nd story and it would be perfect to toss the journal. Zora was more than happy to help in that department.
Here's Zora flinging to journal out the window! Do you see the book? I'm so excited - I got an action shot!
A few minutes later, we tied a string to the journal and we all went for a walk around the block.
Here's the journal after the walk. It's not nearly as damaged as I assumed it would be...but still totally wrecked :)
at the end of the trip, we decided to swing the journal wildly and hit the walls -- or utility poles :) We had an injury in this event though - the string burned Zora's finger from the flinging friction. We had to stop and get a band aid. Life is all better now. This is the journal post flinging.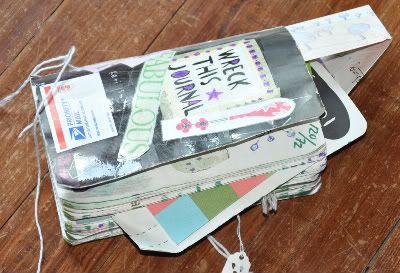 Since I've only got one more week with
The Next Chapter Group
and this journal, I thought I'd better show you as much of the finished pages as possible. I can hardly believe it's been two months that I've been wrecking and playing. How fun.
Mocha once again helping - the instructions were...crumple this page. So I did. She got excited and batted that page around the house for a very long time. She even scared herself silly and ended up with a giant fluffed up tail and wild eyes. Cats are so much fun.
I didn't get to anyone's blog last week, that participated in
WTJ
- I plan to see everyone this week though. I'm excited to catch up and see all of the fun things everyone has done. If you'd like to see more journal wrecking, please head on over to Jamie's place and
The Next Chapter
group.
Have a Wonderful Weekend!
Kristin