I've published 900 blog posts as of this one!
I've been blogging every day (with the exception of two or three misses) since the 29th of March 2008. In November of 2008 I joined the National Blog Posting Month big annual event and I have continued to join in every month ever since. I set a goal last November to post every day until the end of November 2009. I officially missed one day a few months back, which really bugged me. I wanted to have a perfect streak of 13 months in a row of blogging. Ah well.
This next year I will strive, once again, to blog every day because I enjoy the heck out it, but I'm not going to put as much pressure on myself like I did this last year. I hope to continue posting my Photo of the Day M-F and by golly, I'm going to upgrade this blog.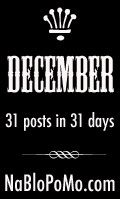 I'm going to start this more relaxed attitude after I get through the December NaBloPoMo. It just makes sense to ge through the end of the year. :)
I made some Kookie Brittle this afternoon and some potatoes au gratin both of which I photographed and will be writing up posts for them. My Secret Santa recipient received her gift yesterday and
blogged about it today
! I got my tree up and decorated and Tom and I finally finished off the last of the Thanskgiving turkey on Friday. It's been a very good day.
Happy 900 to me!
I hope your Sunday has been spectacular!
Kristin