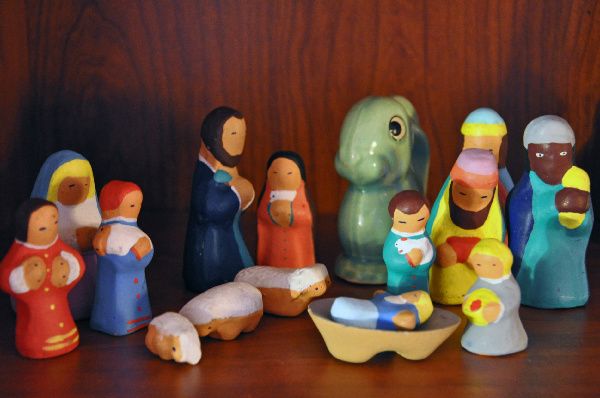 My nativity set.
I've had them forever.
I have absolutely no idea where this set came from, but I call it my little mexican nativity set.
I often wonder if I got it when I lived in Albuquerque.
Who am I kidding. I'm clueless.
Only one of the people has their eyes open and it's this guy.
Well, the bunny has her eyes open, but she isn't an original piece to this set.
I bet you couldn't tell, though. Bunny fits right in :)
Every year I have re-remember that those are not pot holders on this poor girl's hands.
Can you say baby lambs or is that redundant? How about baby sheep? also known as lambs.
Anyway, she's carrying little white animals...sheepish type animals.
I'm just assuming they are babies because she's one of the smaller girls in the set and if they were sheep, I don't think they'd look like pot holders!
Oh Goodness! I just realized something. I have one of the little girls holding a sheep standing next to Joseph. I have Mary standing bhind potholder girl.
Good thing I'm not getting graded on this.
Merry Christmas.
Kristin