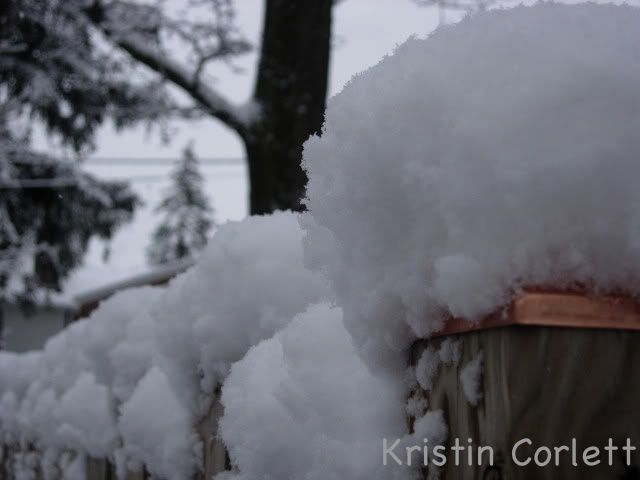 This is one of the photos I used on my Christmas Cards. I had about 100 of them printed up when I realized that I wanted a few more designs, so I wasn't going to use all that I had printed. I'm finally finished with all of my cards and as I suspected, I've got some of these leftover. They are 3.5 x 5 glossy photos and I hate to have them just languish on my coffeetable (because if you know me, things can languish for years on my coffeetable!)
So I put the photos in my hot little hands and took them with me when I went to the post office. I was just sure that there would be a nice long line of people that I could pass out some Michigan snow to, but alas, I was it. Can you believe it?!! I was the only person in the place. I gave my first photo to the postal employee and I did meet a few people in the parking lot. Surprisingly, almost everyone was quite excited.
I thought it was just going to be a funny little thing for me - accosting people and making them take a photo of my mother's snow covered fence - but instead...
One person said that they had never seen snow in person.
One woman said that this was her favorite kind of snow - on film!
I walked around my car to give a photo to the man who had pulled into the spot next to me and he actually got back into his car and sat in the drivers seat looking at the photo, smiling.
I had so much fun with those few folks, that I decided to head to my favorite spot - Publix grocery store. It was crowded! BINGO!
I passed out about 30 photos there. I heard about one gal's first time driving in the snow, which was last week in NC. She's originally from Jamaica. Another woman said her family is coming in today from Detroit and the Store Manager told me that he was 17 when he first saw snow. A little boy was so excited when I handed him the photo that he asked his dad if he could put it on the tree!
What fun. I had no idea.
I still have some photos left, I may have to go out again tomorrow.
Kristin