Mrs. 4444, from Half-Past Kissing Time, hosts
Friday Fragments
each week. It's a great excuse to get all those little snippets that gather in the brain and don't seem enough for one post but together they can make one fun blog post! I love to have you smile when you come over to visit. I hope I've done so! Please visit
Mrs. 4444's Fragmented post
so you can find even more severely fragmented posters like me.
*•-:¦:-•:*''''*:•-:¦:-•*
A facebook friend wrote ----our girls are looking for the Traverse City area houses with the best Christmas lights & decorating (not necessarily most elaborate.) We'll deliver a plate of homemade Christmas cookies to our faves.
Isn't that a cool idea?! I'd deliver a plate of cookies to the folks who decorated the above house (the ditto house!)
My family and I used to pile in the car on Christmas Eve and spend hours driving around looking at the lights in Lansing, MI. It was a real fun tradition. This was before giant blow up santas or net lighting or icicle lights.
*•-:¦:-•:*''''*:•-:¦:-•*
When I moved to Albuquerque, NM in 1984 I learned all about luminarias. The idea of filling a paper sack with sand and a candle hadn't spread far and wide as it has now. I was in love with the glowing bags that lined the thick stucco walls and the flat roofs. I wish that I was more of a photographer then because I would have had thousands of photos. We would buy a stack of paper bags and carefully fold down the tops two or three folds and then fill the bags with sand or cheap kitty litter and then plop a votive candle in the middle. I swear I still dream of the New Mexico luminarias. It was magical.
*•-:¦:-•:*''''*:•-:¦:-•*
Some advertising slogans are better than others - I was standing in line at the post office watching this woman looking at the Parcel Post boxes and all of the different sizes of bubble mailers and they were clearly NOT what she was wanting. Finally I hollered out to her and motioned for her to come to me. She looked confused, but came anyway. I said, "If you're looking for the 'if it fits, it ships' boxes, they are over here on the other side." She knew exactly what I was talking about and found the box she wanted.
*•-:¦:-•:*''''*:•-:¦:-•*
My Mom & Dad and Me :) around 1968 KISawyer AFB

The last two years of my father's service in the Air Force he was next in line to go to Vietnam. He was stationed in Marquette, MI and the winters were so cold and so snowy that people were volunteering to go just to get out of Marquette. My Dad never had to go because he chose to deal with the snow :)
I told my friend,
Lori
, this story and she sent me a photo of her backyard two days ago. She doesn't live in the Upper Peninsula of Michigan but she gets a lot of lake effect snow. Here's her yard.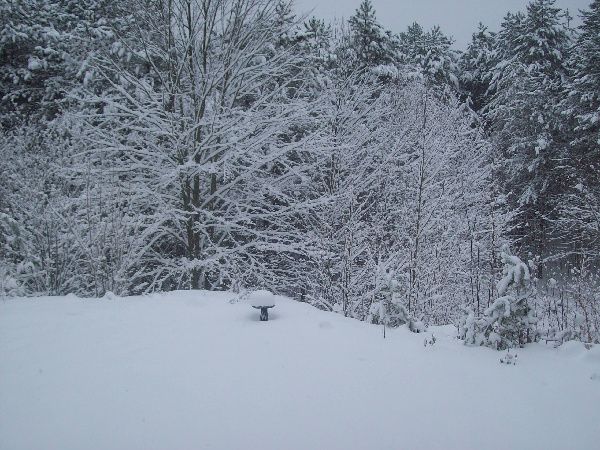 That's a bird bath out there by the trees. She said she had to shovel a few times after this photo was taken. I'm not sure I'd volunteer to go fight in Vietnam in order to get away from snow. but I'm certainly glad no matter what the reason, my Dad stayed in Michigan with us.
*•-:¦:-•:*''''*:•-:¦:-•*
My Thanksgiving dinner turned out to be just me and my husband. The other people I had invited all had to cancel for one reason or another. Pre and Post transplant patients are like that - they can be in the hospital, family can all of a sudden decide to come or they just might not feel well - so it was a disappointment, but I totally understood. This Christmas I decided to volunteer to help with the Christmas Dinner that
TRIO
(Transplant Recipients International Organization) puts on in our community. We invite anyone in the community who is associated with a transplant patient both pre and post. Since my husband was transplanted on Dec 23rd we see Christmas as our transplant season. It's so nice to spend the day with our new family. Anyway, I wanted to make sure that I volunteered at least once this season, since my Thanksgiving went kaput, so the TRIO Christmas dinner is a guaranteed done deal. Tom and I have been to the dinner twice since we've been in Jacksonville, so I'm excited.
*•-:¦:-•:*''''*:•-:¦:-•*
I hope you have a wonderful week.
Happy Hanukkah and Merry Christmas.
Kristin