This message may not mean anything to you all - but I have to post it. It's what I've been working on for the past two days and it's something that's near and dear to my heart.
I've been known as Kirby for many years now. It was my first username and in the organization that I talk about below, I was just known as Kirby. NBU stands for New Body University and it was created to help people lose weight according to the Michael Thurman Six Week Body Makeover Program. We created a virtual game where we had the University, dorms, Resident Advisors (RAs), students, a faculty that included a Provost, Dean of Student Activities, Stats, News, Food Services and a Quad to have fun. All of these things exist in a message forum, so it's very interactive. NBU is going to continue, but I gave my resignation to the faculty last night. This message below is what I'm telling the students tomorrow.
I think that's about all you need to know to understand the note below, but if you have any questions, please ask.
Have a great day.
Kristin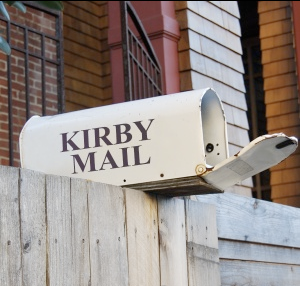 I'd like to thank you all for being a part of another successful NBU. We wouldn't be the incredible New Body University without the Students and the Volunteers that help run this program.
We've come a long way from our first NBU semester 5 years ago. We saw a need, created the University idea, wrote it all down, hashed it out, then proceeded to have several sleepless nights getting NBU started. We've now spent these 5 years tweaking the curriculum so that it was fun and educational. It's exciting being a part of something so unique.
Who had ever heard of a virtual university to help someone lose weight? Who would volunteer to lead a virtual dorm? Who would actually want to play games and take pretend vacations?
I've been a part of Provida & the 6WBMO since March of 2002. I've been voicing my opinions since the day I got to Provida and thankfully I found a place to put all of that hot air to good use. I was among many who helped create NBU and all of the people who have come through its doors has helped create me.
We've had hundreds of RAs, thousands of students, and a few million laughs and giggles. I've probably sent a few thousand PMs and received just as many. I've sent many messages of encouragement and a few to point out the rules of play. I remember one student telling me she was afraid to open the PM I sent to her because she thought she was in trouble! I hope for the most part my messages were received without pain.
In the early days I was the only one who wrote the challenges, but thankfully somewhere along the line I accepted help with them and our wonderful volunteer faculty started creating challenges, too. Since I had given away my challenge writing job, I started playing around with the NBU format. Through the years we came up with badges, Pirate week, structured DTD challenges, additional theme weeks and questions of the day. I started writing Kirby Mail and even had my turn at running a dorm or two for RAs who were on extended vacations. I learned quickly that I was not RA material. I'm MUCH better being behind the scenes, making my appearance every so often, but helping to keep the wheels spinning in the background.
Why am I getting all nostalgic?
I'm trying to let you all know how much I love NBU and how much it has profoundly affected my life. How the friendships I've made and the work that I've done has made me a much better person. I never thought I could do anything truly significant and now that I look back, NBU is very significant and I helped create it! Being the Dean of Student Activities in a virtual world has meant the real world to me.

I'm trying to say that I've decided to leave NBU.
It's a heartbreaking decision and one that I've struggled with, but one that needs to happen. There is a season for everything and I do believe that my season with NBU has ended. I can't imagine not having NBU in my life or having all of these fabulous women in my life (there's even been a few guys in NBU, so guys, too) but I need to stretch my legs in a different direction.
I made one of my dearest friends because of NBU. Rachel (NBU Provost brwright) has been one of the best mentors and friends I've ever known. She taught me how to lead, how to delegate, how to be firm and to keep going every day, no matter what. I taught her her a few things, too, I'm sure. She has been a friend to me like no other.
I've met so many wonderful people in NBU. Some of these folks will be friends long after NBU. I have seen the world through the eyes of the students and RAs. I've read about loves and loss, children and spouses, heartaches and successes. You've taken us on your vacations, attended weddings and enjoyed reunions. What a cool world we live in.
I thank you all for being a part of something that was so incredibly important. I also want to thank those of you who will never read this message because you left years ago, you were an important part of NBU and an important part of me.



I'm really going to miss being a part of this wonderful volunteer organization.
We always are looking for people who want to be a part of NBU, so if you'd like to volunteer to RA, ARA, write challenges, or have any other ideas, please contact your RA. You will not regret being a part of NBU. I will never regret it. Ever.
Kirby
Dean of Student Activities
...for the last week