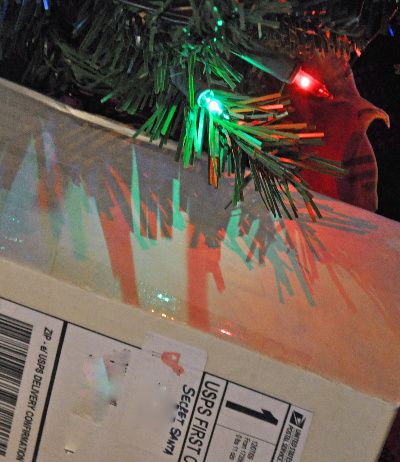 This is supposed to be an arty picture of the package from my Secret Santa under my tree. Ehhh, not so arty, but very cool to receive!
After receiving the package and placing it under the tree for a brief moment to snap a photo, I carefully ripped the package open.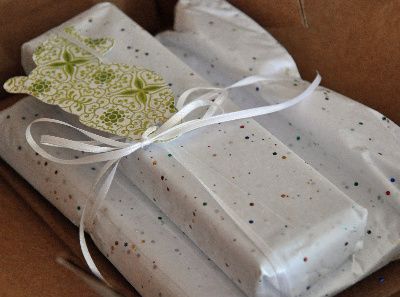 This is the lovely gift that was waiting inside. I have to say, before I go on, that this tissue paper is one of my favorites. I buy it more often than any other. I was so thrilled and I hadn't even opened up the packages yet!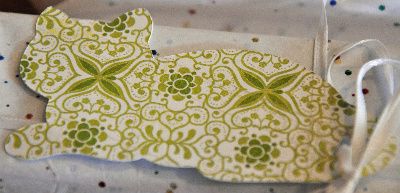 Look at this adorable gift tag!
It's a cat!
Love the pattern on her, too.

The first package contained this beautiful Vera Bradley pen. I don't know why I didn't center the pen in the window. See, I was too excited. I wasn't thinking. So far my Secret Santa has totally got my number. A cat gift tag and a gorgeous writing utensil (that feels wonderful to hold by the way) and a cool box that the pen came in. I've already got an idea what I want to do with the box. :)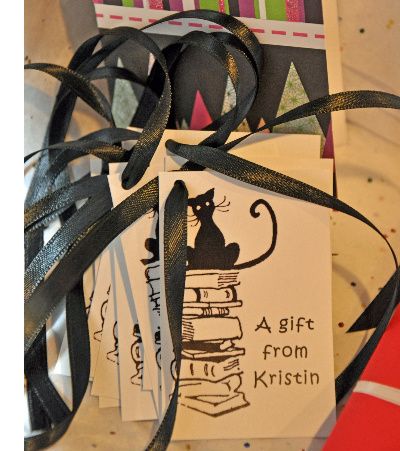 The next package contained this. I actually made a little squealing sound when I saw this gift. They are gift tags...with my name on them...spelled correctly!! It's always so cool to have things with my name on them...spelled correctly :) Cats and books and great name! Three things I love and I will use these.
Could there be more??!!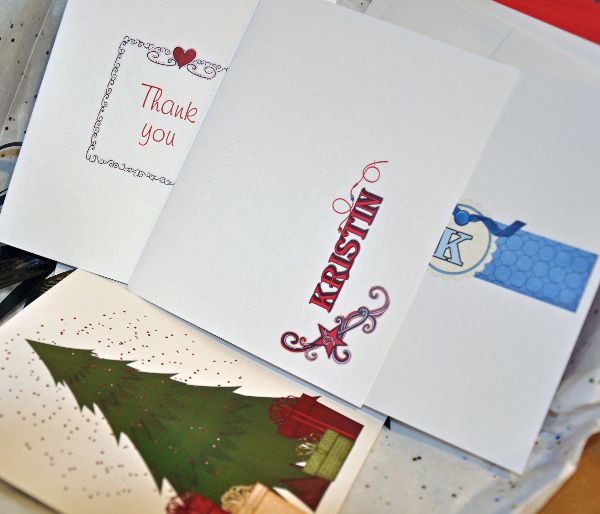 A little package of note cards tied up with a thin little white ribbon was the next item. Anyone who knows me knows that I love note cards. I like to jot little notes to people and send them off with a cool stamp on the envelope, if possible.
The lovely Christmas Tree card was on the outside and I foolishly assumed that all 8 cards were the same. I took a picture of the little bundle and then realzied that I needed to see the rest of the cards. I had to hold them and touch them. I pulled out the Thank You card next, then the "K" card and the last card I pulled out was the Kristin card! Oh what fun! Two of each design and two kinds of smiles per card. Oh how delightful.
So, that's the wonderful surprise that I found on my doorstep today.
Secret Santa you did it again!!
Thank you, Thank You, Thank You!!
Thanks again
Georgie
and
Amy
for putting this together. What a blast!
(and this Secret Santa did not reveal herself to me, so I'll have to wait or guess and I have no guesses right now)
Kristin