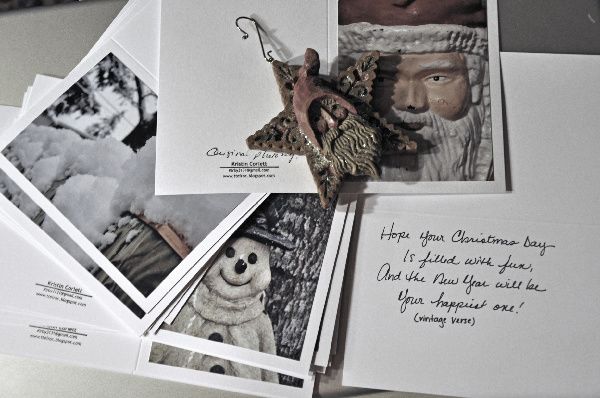 I made my Christmas cards this year. I took the photos, got prints made, attached them to the blank cards, found a verse from a vintage Christmas card that I thought was fun and wrote them all out. Then I printed out my address list and addressed the envelopes. Then I had piles of cards and piles of envelopes and the two needed to get married.
My husband usually doesn't get his name in the cards, unless it's to his family or one of his good friends. My mom used to say that if my dad wanted to sign his name he could, but that she didn't do it for him. I kind of took on that philosophy. I used to hand Tom a little stack of cards to have him write in, but the sighing that came from his side of the living room was almost more than I could bear. Now I send so many cards to people who only know me, that I'm just in the habit of having the cards be from just me.
I really like sending cards, but I have a confession. The last 20% gets the short end of the stick. A few months ago I found a stack of 10 or 20 envelopes that were addressed, but never got a card and were therefore never sent. Oh goodness, I felt like a heel. I made sure those folks were done first this time! Anyway, the last 20% get sent out very late, possibly don't even arrive before Christmas and aren't necessarily the end of the alphabet. This time I didn't have enough cards made, so that was the hold up this time. So if you haven't gotten your card yet and you always get one from me, consider it a Happy New Year card!
Naw, I'll get them finished this weekend.
Merry Christmas!
Kristin