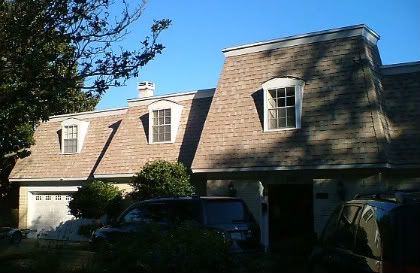 Yesterday I
spoke
about the giant master bathroom we encountered. I didn't have any pictures last night, but I do today. Hold on to your hats.
First off, the exterior of this house is one that I just dislike. (This is the actual house that we toured) I'd live in this house, but it would be real low on my list of favorite home types. Many many apartment complexes in Lansing, MI are in this style. I just don't get it. It was a trend, that's for sure. I asked my husband (the man who knows everything about every style of roof out there) and he told me this type of roof is called a
Mansard Roof
. By golly, that's what it's called. I googled it and the huge giant mansions with this type of roof are gorgeous, but the look gets totally lost on a two story home. Very Lost. I don't see it coming back into vogue anytime soon.
I think this bathroom is something that will never come back into vogue either.
Here, let me take you on a tour.
This is what you see when you walk through the double doors.
You could have a dance-off in the amount of wasted space in this bathroom.
To the left of the sink is the bright blue shower, the toilet and behind the door, which you can't see, is a blue bidet. I guess at some point the toilet needed to be replaced. I'm shocked they didn't get another blue toilet.
Now turn to the right...
GASP
Columns at all four corners. Mirrors on three walls. A chandelier above the shallowest tub I've ever seen. A two foot walking area around the back and sides of this monstrosity.
Here let me give you a better look.
Oooh, you can see the bidet in the mirror. What a lovely sight.
So what do you think? Do you think you could use a 26 foot by 14 foot space more efficiently than this?
Yeppers, that's what I thought.
The entire second floor in this house would need to be totally demo'd. The whole place was designed badly.
If it wasn't for that roof, I'd almost think this was a great flip. almost.
Please don't forget to enter my
GIVEAWAY
- it ends Monday March 16th at Midnight eastern time.