I love a great idea & Make Do Monday's hosted by
Ann Kroeker
is a place where you can certainly find some great ideas on how to make do with what you have. "It's a carnival you can visit to celebrate creative problem-solving, contentment, patience and ingenuity," says Ann.
Ann purchased something that came in a great box - so she has reused that into her jewelry box. I don't think I could have tossed away the box either. Speaking of not being able to throw things away. I have a few items I'd like to share with you today.
First up is this rather innocent looking tin. It's an olive oil tin to be exact. I purchased the oil in this tin for a very specific purpose. I needed a trash can to sit on my tiny little rolling laundry cart and I couldn't find a trash can small enough, cheap enough or square enough to put on this little shelf.
I looked for a long time, when one day when I was grocery shopping I saw the olive oil tins. It was going to take me a long time to go through all of the oil in that tin, but I thought it just might be worth it. So I bought it.
It probably took us a year to go through all of the olive oil, but after a few months I transferred the oil to another container...I couldn't wait any longer!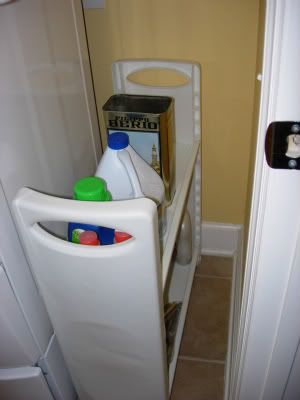 I cut the top off of the can with a can opener and washed the inside carefully with about a teaspoon of liquid dishsoap and a drop of water - this cuts the oil - and then rinsed it real well.
Tah-dah!
It's a trashcan!
It fits perfectly on my little cart. It holds lint from the dryer like a charm and doesn't ever look like I have a trashcan sitting next to my designer bleach bottle. haha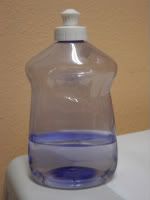 Another laundry item that I have made-do is this bottle of distilled water. This is a bottle from a small container of dish soap. I have filled it with distilled water and I use it to fill my iron. It doesn't leak and gives a nice controlled stream of water into the iron. It also holds quite a bit of water, so if I'm doing a marathon ironing session I don't have to keep refilling the bottle.
(Normally I put labels on plastic containers that contain liquid, but since this just holds water, I have not labeled it.)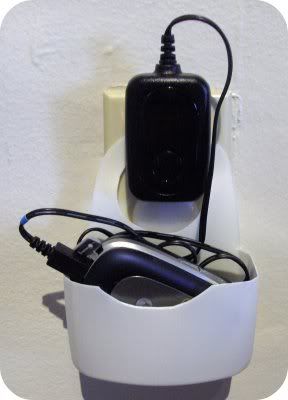 This whole post was inspired by this little gadget. I have always thought the charging stations for cell phones were so cool, but I don't have the counter space or the desire to fork out the money for something that is really not needed. However... When I saw this project at
Zakka Life
, I just knew I needed to make one.
I haven't yet - I don't have a container that is available right now, but I didn't want that to stop me from showing you all this tutorial. Please click on the link to Zakka Life to see the whole
tutorial
- it's really so easy.
I hope you have a fabulous Make-Do Monday!
Kristin
UPDATED: Zakka life has taken down the tutorial because of comments over safety issues. Sigh.