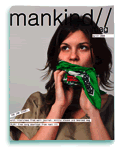 Speaking of giveaways...
I entered a giveaway the other day at
Design for Mankind
that was for a downloadable copy of their magazine Mankind and I won!
I have always enjoyed the blog - it's mostly photos of art and a few words - It's a blog that I don't have to read, I can just enjoy. I like that. Sometimes I like to just treat my eyes. (One of my other favorites for just looking is
Big Happy Funhouse
, by the way.) The
March issue of Mankind magazine
is a PDF file, 90 pages in length and if you were to purchase it, is $1.99. I have not purchased the magazine in the past because I had only found the website just a few months earlier and I wasn't sure if the magazine was going to be like the website or if it was going to end up being more "lecture" like - you know, save the earth, vote for this politician, etc. I just didn't want that and as much as I love art, I really dislike being preached to.
THANKFULLY! This magazine is nothing like that. I am so happy that I won the free download - I loved it. I read each word and have gone through and looked at the photos several times. It would have been worth my two dollars, if I had purchased it.
I love looking at the things people create. I am just fascinated. A lot of things that I see I would never have in my home, but I am always interested in the way that people see the world and the colors in it.
I just saw a picture of my cousin that someone took and posted on Facebook. (which I just grabbed and cropped to show only my cousin, Alan) My cousin is standing next to a sidewalk chalk drawing and I found myself mesmerized by the chalk on his clothing...the way the chunks of color could be seen on his jeans. The bright yellows and reds are clearly visible. I could see that he wiped his whole hand on his t-shirt but it looks like he only wiped the tips of his fingers off on his jeans.
I can just get lost in analyzing lol
So
Design for Mankind
is a place you might enjoy visiting. The magazine is one I will be getting each month now. I no longer have any magazine subscriptions now that my beloved Domino Magazine is no longer being printed. The Mankind magazine won't clutter up my coffeetable and I can open it anytime right here on my computer. I love it. What a fun thing to win.
Speaking of giveaways, don't forget to enter my 500th Post Giveaway -
here
!
Have a Wonderful Wonderful Weekend!!
Kristin