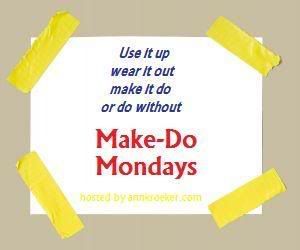 Welcome to Monday!
Make-Do-Mondays are hosted by
Ann Kroeker
. She says -- "It's a place to celebrate creative problem-solving, contentment, patience and ingenuity. It's a carnival where we encourage each other not to rush out and get the next new cool thing if something we have on hand can get the job done." Several others are jumping on the Make-Do carnival, so be sure to go see what everyone is doing this week!
This weekend I had several make-do moments. The first was breadcrumbs. I was totally out of them and my husband wanted to have breaded chicken cutlets for dinner. So instead of running next door to the grocery store, I grabbed a few slices of bread and toasted them a few times in the toaster to help dry them out. Then an hour later I put them into the mini chopper to get them into smaller bits. Then I toasted them in a pan to continue the drying process. This would have all been fine and would have worked if I had realized earlier in the day - but the crumbs were still too damp so I needed to make-do another way. (The breadcrumbs were perfect by morning though - so we now have a new stash of breadcrumbs)
Second Make-do was to use quick cooking oats. I whirled them around in the mini chopper a few moments and got a nice crumb out of the oats. That was a lot less work than trying to dry out break quickly lol and the breaded chicken cutlets turned out real nice.
On to Make-Do number three. I was going through boxes that hadn't been opened in a few years and found an envelope with a about 30 colored golf tees. My husband isn't a golfer, so this was not a normal find. We also don't have a place to keep golf tees, since he doesn't have a golf bag or anything. When my husband owned a Lake Amphibian the golf tees were used to put into the weep holes in the airplane when it was parked. This would seem silly except that mud wasps LOVE to build their nests in these tiny holes - so the golf tees plugged the holes and kept the wasps out.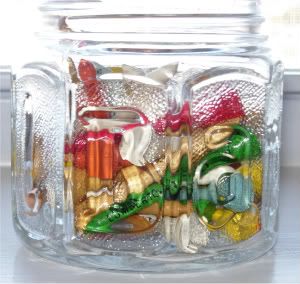 I thought the tees were a pretty bit of color, so I grabbed an empty antique Barbasol jar and put the tees in there. Now I have a colorful accent for my kitchen window.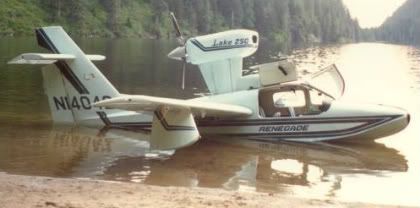 This is a Lake Amphibian airplane. They are a boat hulled airplane that can land in the water and also land on a runway. My husband has owned one or more of these airplanes since he was 26 years old. Unfortunately he is airplaneless at this time. We had to sell the the last amphibian just before his liver transplant surgery in 2005. I have flown in one of these a few times. I've landed in the water, too. It isn't my thing. :) but I've done it!
I hope you have a wonderful Make Do Monday and that you can find some beauty in some unusual find in your home. (Be sure and visit the
MDM
carnival to get other great ideas.)
Kristin