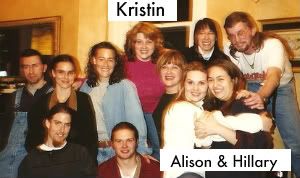 One of my new blogging friends commented that she didn't know the story of why my blog is named "The Goat" so I thought I would write up something for her - and everyone. I sort of just gloss over the story in my other posts about my blog name, but it really is a good one - so here it is...
On June 19th, of 1994 my mother opened up a business named The Dancing Goat Coffeehouse. "The Goat" for short. We had a great group of kids working for us and we hung out a lot together. Here are a few pictures of the gang at one of our staff meetings.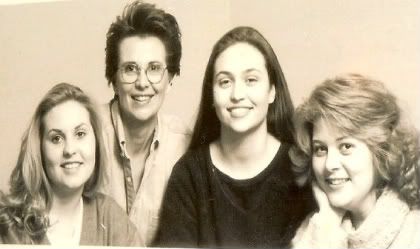 This photo was taken in 1995. My mom and her three girls. R- L
Alison, Judith, Hillary & me, Kristin. (this is a picture of the photo on the wall - that's why it is a bit skewed)
We had a few artists working for us, as well as a photographer, a local DJ and many students. We even had a few crazies!
OK, I think we were all a bit crazy, but some of us were crazier than others.
I loved The Goat. It was a place where students from the law school across the street could come in and study all day, if they'd like. They could also come in, as our friend Giovanni used to do, and just say "feed me" and we would. I would get him a bowl of soup, a slice of bread and a cup of brewed coffee. When he first arrived in town he was happy and healthy and well rested. By the end of his second semester he had deep dark circles under his eyes, he was buried in law books and notebooks, he always needed just another hour of sleep and he missed his home and his family. We tried our best to be his home away from home. He could always walk in to The Goat and get a coffee and a hug if he needed it, but we always had a few moments to sit down with him and be his friend.
Our coffeehouse was right in the middle of Downtown Lansing, MI - the seat of the Michigan Government. We had a lot of state workers that came to our place every day as well as politicians, local radio and tv personalities and writers for the local newspaper, as their office was just around the corner. Our coffeehouse was in the newspaper all the time. We always had an opinion on whatever was going on - besides, the writers came to our place each morning, so it was easy to just ask one of us what we thought about such and such.
We had a couch by the front door, we had the cleanest bathrooms in 9 states, we had my grandmothers buffet as our condiment counter, painted murals on the walls that were my sisters handiwork, we had outdoor seating, lunchtime music on the patio in the summer and of course, really great coffee and cappuccinos.
We closed the coffeehouse November of 1998.
The 4 years that we were open were life changing. I learned so much from the people that I worked with and the people that we served. I met my husband at the coffeehouse, my sister met a woman that was to become one of her very best friends, we had some of our best parties ever that included many people we met at the coffeehouse. The Goat was the site of a wedding reception and on Thursday nights musicians would come and have a jam session. It was a magical place.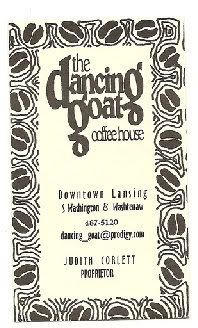 I loved The Goat. I was so lost after we closed. I just didn't know what to do. I had my identity wrapped up in that place and the people, so years later when I decided to start writing a blog, I chose "The Goat" as a way to honor that family business, but also to continue welcoming people through my front door and inviting them in to sit down, have a cup of coffee and enjoy a good story or two.
We had a punch card that looked like this. We also had a special punch. It looked like a coffee bean, but in actuality it was a Whopper punch.
My grandfather had a Burger King franchise that he started in the 1960's and one of the punches he used at those early stores is what we used as our coffee bean punch. Some of the tables that we had on our patio were from one of Burger King stores. Everything is intertwined. Everything!
My mother purchased this spiral bound notebook to write notes back and forth, from the day shift to the night and so forth. (Click the picture to get a larger, more readable view) But that book saw only a few of those notes. This book became a journal, sketchbook for the artists in the group, a place to write poetry and fanciful stories. We have half a dozen of these notebooks with hundreds of entries.
This is my mother's handwriting, let me know if you can't read it - I know that being one of the kids, I understand the notes from mom.
One of our very first employees made the sign for the tip jar. We never changed it. After awhile it was reinforced with stir sticks and packing tape. All of our signs on the coffee were designed by the gal who made the tip jar sign or were made by me with rubber stamps and embossing inks and powders.
Nothing in the coffeehouse was in your average place. We tried to make everyone feel like they were walking into a nice comfortable place where they could stay awhile. I hope that's what you all feel like when you come to my blog. I hope that you feel comfortable and that you'd like to stay awhile. I wish I could make you a cappuccino, because even though I really dislike the taste of coffee, I could make an incredible cap.
This is the story of why I call my blog The Goat.
Thanks so much for stopping by.
Kristin