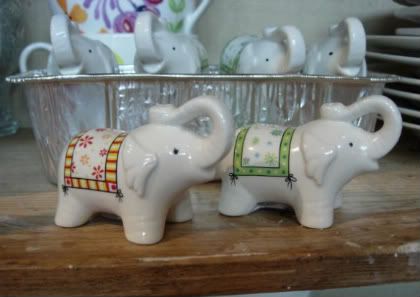 Just before Christmas I went shopping with my camera. I literally shopped with my camera. I didn't buy a single thing, but I sort of bought all of it by just photographing it. I've looked at these pottery pieces several times since Christmas and am so happy to see them, but am also so glad that I don't have to find a place in my cupboards for them.
I really enjoyed this elephant display. It looks like the four in the aluminum pan are laughing!
All of these items are from Anthropology.
I love bowls.
I love pottery bowls especially.
I like to feel the glaze and I love it when the glaze is silky smooth.
Not all glazes are created equal, that's for sure.
A big bin of colorful bowls all stacked and waiting to be purchased was almost more than I could bear. (bare?) (someone let me know which is correct - I would have used a different word, but I can't think of one right now)
I picked up at least one of these bowls in each bin.
and then I put it back.
Are these geese? swans? ducks?
I was never into the ducks and bows craze, so I think that's why these aren't my favorite, but I do love how they were arranged in little families all stacked up - looking around. I loved the big pans of pasta they were sitting in, too. They were marked as measuring cups - I can't imagine how you would actually use them, but they are fun.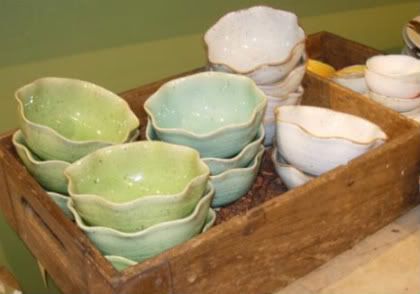 Oh goodness, this wooden box with the scalloped bowls.
The colors were perfectly pastel and really needed to have a scoop of mint chocolate chip ice cream in them just to make the scene look perfect.
These are also measuring cups and a lot more practical than the ducks. I think you could actually use them. I have to admit, I wanted to buy these. I held on to them for a good 3 or 4 minutes. I thought my sister might like them, I thought my other sister might like them, I thought I could buy them for a friend or as a giveaway...
Then I put them down and took a picture.
I realized that I was trying to make them fit into someones life, when it was my life I wanted them to fit.
I didn't need them nor did I really want them - I just wanted to see them.
So here they are.
I hope you enjoyed my little love-fest.
Have a fabulous weekend!
Kristin
(edited to add: NaBloPoMo's theme this month is Giving (Up) - I rarely write on the theme, but I realized this morning that this post was about giving up and also about giving. I was giving up having these items in my home. However, I was certainly giving to myself by taking pictures of beautiful items and by not adding to my debt or to my possessions. )